A worker's market
Steamboat has far more jobs than employees
Under Construction
Read more about how
downtown and base-area construction
is transforming Steamboat Springs.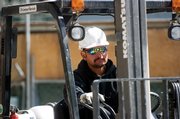 On the 'Net
Learn about local employment on the Web at: www.yourworkforce..., or call employment specialist Brian Bradbury of the Steamboat Springs Workforce Center at: 879-3075, or e-mail steamboatsprings@cwfc.net
The immigration issue
Efrin Hernandez, 38, said he came to the U.S. two years ago from Zacatecas, Mexico, on an extended worker's visa. Hernandez works for QM Masonry of Loveland and is part of a crew subcontracted to work on the Alpenglow project on Lincoln Avenue. Taking a break from work Thursday, and conversing through translator and fellow mason Adriel Allen of Craig, Hernandez said many Hispanic people he knows in Colorado are aware of - and "pretty happy" about - immigration reform laws currently under debate in the U.S. Senate.
The legislation would allow immigrants to stay for up to two years in a guest-worker program, increase the number of work visas issued to immigrants and create a pathway to citizenship for the estimated 12 million immigrants currently in the U.S. illegally.
Hernandez said it took him nearly five months to obtain his visa, which was required for his employment.
Jim Hinton of Drahota Construction, project superintendent for Alpenglow, said Drahota has strict regulations for documentation.
"Our company needs to analyze that carefully when hiring people," Hinton said. "They have to have proper documentation. There's an I-9 form that requires various types of identification, and a Social Security number, to prove that they're an eligible, legal, working immigrant:.We have to require that now. There's too much risk and liability to not."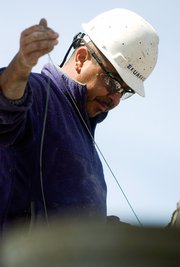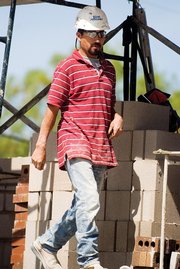 Steamboat Springs — Are you a truck driver, carpenter, excavator driver, welder, house framer, heavy equipment mechanic, diesel mechanic, project foreman, concrete foreman, electrician, service technician, laborer, hauler or finisher?
You're hired.
Openings for all those positions were advertised this week in Steamboat Today, which contained 30 columns of employment ads compared to six columns of housing rentals. Construction ads alone covered more than two columns, not including construction-related openings that spilled into other categories of the classifieds. At the beginning of an unprecedented period of local construction, the labor market in Steamboat Springs is already outpacing the labor pool.
"There are far more jobs than there are employees to satisfy the jobs," said Brian Bradbury, an employment specialist at the state-operated Steamboat Springs Workforce Center in Sundance Plaza. "And that's a change from several years ago. Especially in the past year, the labor pool has really shrunk."
Bradbury said that translates to tough times for local employers.
"We're seeing companies having difficulty finding employees here in town. The construction area is struggling significantly," Bradbury said. "In the construction industry, a lot of people getting the bids are from out of town."
A lot of workers are from out of town as well.
Thursday morning at the Alpenglow development on Sixth Street and Lincoln Avenue, masons Efrin Hernandez of Loveland and Adriel Allen of Craig worked atop scaffolding under a clear blue sky. Both men work for QM Masonry of Loveland, a contracting firm that also will supply labor for Lincoln Avenue projects including Howelsen Place at Seventh Street and The Victoria at 10th Street.
Jim Hinton of Drahota Construction is the project superintendent for Alpenglow. He said QM workers typically travel to Steamboat and work four 10-hour days before returning home for a long weekend.
"Some of our subcontractors have rented townhomes, and some are using hotels," Hinton said.
Hinton said that he has not seen wages change because of the demand for workers - yet.
"I think the higher skilled workforce will be able to draw a higher wage later this year," Hinton said. "I expect that as some of the other large projects get going, it will become increasingly difficult (to fill positions)."
Competition
Hinton said he has a total budget of about $10 million for the three-story Alpenglow project, which will house commercial and residential space in the main building and townhomes in a second building across the alley - a plan similar to Howelsen Place one block west.
While Drahota pays less than $20 an hour for general labor, with wages increasing for skilled positions, Hinton said, he did not want to cite specific wages "because of the competitive nature of some contractors that will be working in the area."
"That could create some issues for our workforce," he said.
Wage levels already are creating issues for owners of smaller local businesses.
Brad Miller, of Miller's Land-scape Design and Lawn Care, said Thursday that he considers himself lucky to only need four employees.
"I'm sure that if I were to put an ad in (local media), I wouldn't get any quality people to work for me," Miller said. "I know other contractors who are really having issues."
Miller said he pays between $12 and $18 an hour, a rate he said is "a lot of money for landscaping."
For people looking to find a job, Hinton said, the pay comparison between small businesses and large construction firms is not hard to see.
"People can come into the construction trade and make a decent living without a lot of experience and without a lot of skills," Hinton said.
The shrinking labor pool is felt in city government as well.
"It's a very difficult situation," said Jim Weber, the city's director of public works. "It impacted us directly this past winter - we weren't able to hire additional staff for on-call snow removal on Lincoln Avenue."
With several new sites either slated or likely for future construction, both downtown and at the base of Steamboat Ski Area, labor issues are not going away in Steamboat.
"It has become such a focus for everyone, and it can't not be," Hinton said, looking at the Lin-coln Avenue skyline while chatting about construction impacts. "But people need to step back a little bit : two years from now, this will be a beautiful street."