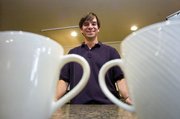 Steamboat Springs — Steamboat resident Rich Levy describes the past 10 months as an adjustment period for downtown coffee and tea lovers.
Mocha Molly's, a favorite coffee shop of locals, closed last summer.
"It was like losing an old friend," Levy said. "I enjoyed hanging out and using the Internet. It was a place to meet."
Levy rekindled that friendship Wednesday while waiting for friends and enjoying a cup of tea at Steaming Bean Coffee. The coffee shop opened Monday in the space formally occupied by Mocha Molly's at the corner of Seventh Street and Lincoln Avenue in the Franklin Mall.
Levy said if people find their way back to the coffee shop, the business would be successful.
"It's really surprising that no one implemented this idea before me," said Todd Moore, the owner of the Steaming Bean in Steamboat. "It was a missing link in town."
In November, Moore, 35, moved to Steamboat from Delaware with his wife, Tiffany, and their 14-month-old daughter, Tinsley.
Moore grew up in the hotel business and was the director of sales at the Hampton Inn and Suites of Steamboat Springs when he moved here.
He said he was eager to work for himself and followed the status of Mocha Molly's. Purchasing that business did not make financial sense, he said, so he took over the lease and started from scratch.
He chose Steaming Bean after researching Colorado roasters.
Steaming Bean is a Telluride-based coffee roaster with independently owned franchises in Gunnison, Durango, Parker and Dillon. There also is a Steaming Bean shop in suburban Chicago. Former Steamboat resident Julie Dunn owns the Durango shop.
Moore said what made the Steaming Bean franchise attractive was the absence of franchise fees. There are a lot of advantages and resources available with an already established company, Moore said, including provided signage, training and equipment setup.
The only requirement to opening a Steaming Bean franchise is you have to buy the coffee beans from the Telluride roaster.
"It's the most refreshing concept I've heard of," Moore said. "The better we do, the better he does because he sells more beans."
Mick Hill started the wholesale coffee business in 1991. The beans are available in some grocery stores and hotels. Moore said he plans to sell the beans wholesale for local businesses.
"I think that store will do well in Steamboat," Hill said. "People know that place as a coffee shop, and it's big enough to be a community gathering place."
Moore removed the old baking area to open up more seating. Some baked goods are sold, but Moore said the focus is on the drinks.
He currently has four employees, including a manager, Caitlin Scanlon.
The coffee shop had a soft opening Monday.
"Every day it's busier," Moore said. "The word of mouth is starting to trickle down."