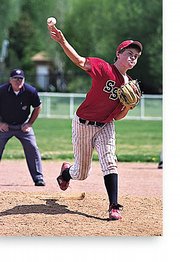 Steamboat Springs — While they don't feel good today, the two extra-inning losses the Steamboat Springs Legion B team suffered Saturday will go a long way when the spring high school baseball season rolls around.
Although the high school season is more than nine months away, Steamboat manager Dave Roy came away from the games against Middle Park optimistic about the summer season and the future of Steamboat baseball.
"Winning is great," Roy said after Steamboat lost the first game, 15-10, in eight innings, one inning more than the typical seven-inning game. In the second game, they lost, 9-8, in nine innings. "It's something you hope happens, but what's more important is getting the game reps. You learn so much more by playing."
Specifically, Roy was pleased with two incoming freshmen who led Steamboat's attack.
Alan Capistron and Michael Savory both delivered three RBIs in the first game and one each in the second game.
"A lot of the young guys played well," Cody Miles, soon-to-be sophomore, said. "They did what was asked of them and got some hits."
Despite the optimism, Steamboat had chances in both games.
Steamboat went into the top of the eighth inning in the first game tied at 10. Then the first three hitters for Middle Park reached and scored to put the team ahead for good.
Steamboat's Ryan Tebbets pitched into the eighth inning before giving way to Miles.
Ryan "threw a great game," Roy said. "Finally he just wore down, but he kept battling until the end."
In the tail end of the doubleheader, Steamboat jumped to a quick 8-2 lead, behind a five-run third inning.
Steamboat sent nine hitters to the plate in the inning, with most of the damage coming on Tebbets' bases clearing double.
Steamboat held the lead until the fifth when five straight singles chased pitcher Philip Riley. Middle Park scored five runs in the inning to close within one at 8-7.
Steamboat held the lead until the bottom of the seventh inning, when Middle Park tied the score up on a sacrifice fly.
Steamboat's best chance in extras came in the top of the eighth when Miles singled and moved to second on a passed ball.
Unfortunately, a flyout and a groundout ended the inning.
Middle Park won in the last part of the ninth when a single down the left field line scored a runner from third.
"It was long and tiring and a tough way to lose," Miles said. "It was still fun. Close games make it fun."
Steamboat next plays a doubleheader at home against Palisade on Saturday.