Steamboat Classic Lacrosse Tournament wraps up today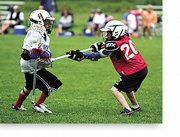 Steamboat Springs — A midfielder streaks toward the cage, snatches a tight pass from the attackman behind and buries the shot low.
There was nothing surprising about that play Saturday at the Steamboat Classic Invitational Lacrosse Tournament, other than perhaps the age of the youth executing it.
The goal was from the Steamboat Youth Lacrosse eighth-grade squad in its opening game of the fourth tournament.
"We're talking about assisted goals here, unselfish play and kids being able to see the field at an early age - it used to be (at the beginning of the high school season), here's the stick, this is what a slash (penalty) is," joked Steamboat Springs High School lacrosse coach Bob Hiester.
Hiester will return 49 players to his program, not including this incoming freshman class, which spent Saturday dispatching the Laramie Nighthawks at Emerald Park.
Neill Redfern, director of Steamboat Youth Lacrosse, is teaching kids the basics. Redfern had 136 kids sign up to participate in SYL's spring season - a schedule of late-spring weekend tournaments that runs through the home games of the Steamboat Classic and concludes June 3 after the Warrior Rocky Mountain Lacrosse Jamboree in Arvada.
SYL was represented in every age division at the 23-team, two-day Classic, with teams competing in the fifth-, sixth-, seventh- and eighth-grade divisions. Redfern was busy running the substitution box for the eighth-graders, feeding a constant stream of positive encouragement to players as they subbed out and extended their lead.
"We kept our composure after the other team got all those penalties," eighth-grader Erik Owen said after Steamboat's 6-1 win against Laramie. "I think we play well together because we know each other's styles."
Owen said the win puts the team at 6-3 on the season and into a likely second-round match-up in the single-elimination tournament against a large and skilled squad that pulls from a broad base of the southeast Denver metro area.
The eighth-graders won't be the only Steamboat team with a stiff assignment. Billy Atkinson's fifth-graders dealt with the Littleton Panthers on Saturday morning.
"I was surprised, and I was really proud - it took a little while for the coffee to kick in - but they started passing the ball and moving around better," Atkinson said of his team's 6-3 loss. "This is a Panthers program that gets 800 kids out a year (second through eighth grade) in their 11th game, versus us in our first game."
For Cheyenne Outlaws coach Dave Weber, watching his team compete - and lose, 8-1, to a talented Steamboat seventh-grade team - at the mountain tournament was a prime example of the explosive growth of youth lacrosse well beyond the traditional Front Range hot-beds.
"The numbers shocked me - I heard that Colorado was the third-largest state in number of U.S. Lacrosse registered players behind New York and Maryland," Weber said. "It will be interesting to see in about six or seven years, because it's all about getting these feeders going."
Play continues today at Emerald Park. The fifth- and sixth-graders play in a round-robin format. Steamboat's fifth-graders play at noon on Emerald South and at 2 p.m. on Dudley Field. The sixth-graders play at 8 and 11 a.m., on Dudley Field. The bracketed eighth-grade championship will be at 3 p.m. on Emerald North, and the seventh-grade championship will be at 3 p.m. on Emerald South.
Redfern encouraged fans to turn out for the free games and to carpool, if possible, to eliminate parking issues. Call 871-6100 for updated information on any weather delays.