Photo Gallery
Kayak class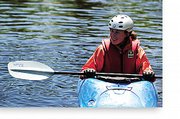 There aren't a lot of folks who would be willing to go for a swim in the chilling runoff water of the Yampa River. And there are even fewer, if any, kayakers who would ever admit to a swim from his or her boat as the highlight of the day.
But when you're dealing with children, Barry Smith will be the first to tell you that it's a different ball game.
Smith, who offers kayak instructions based out of his Mountain Sports Kayak School, teaches courses for students of all ages from Lowell Whiteman to Colorado Mountain College.The energy of the students from Steamboat Springs Middle School who signed up for a three-day class this week wasn't a total surprise - even when it began on a snow-covered morning Wednesday.
"These guys wanted to do the wet-exit exercise in the coldest water ever," Smith said. "Sometimes it's easier with kids, because they have that go-for-it attitude."
Smith hosted the group of nine sixth- and seventh-grade students from Everything Outdoors Steamboat - an outdoor education program through SSMS.
Smith quickly learned that a few swims in the 36-degree water on Day One did little to quench the students' thirst for the novel activity.
"They really want to go downriver further into the town stretch, but I want to stress the skills and make sure they're real proficient," Smith said looking ahead to the group's final Friday float trip from River Creek Park down to Fetcher Park.
For Kerry Kerrigan, EOS instructor and seventh-grade SSMS teacher, the kayaking program served more than simply exposing kids to the river and to a new sport.
"I think it's good for the kids to see their teachers outside of the classroom and living out in life," Kerrigan said. "Plus, I have an artificial leg, so it adds the element that I let them know they can do whatever they want in life, they may just have to do it a little differently - a good lesson to just go with the flow."
Even without a solid Eskimo roll down and only a few strokes learned throughout a couple of days, the seventh-graders already were bragging about who had caught a wave and learned to surf first.
While Katie Hostetler was busy paddling in the EOS program, learning to catch eddies on the upper stretches of the Yampa on Thursday, her brother was occupied with a lesson of his own downstream.
Just beneath the 13th Street bridge, Jimmy Hostetler had to swim out into the current, grab Brian Burger and swim him safely into shore.
The 17-year-old high schoolers were simulating contact rescues on an unconscious victim as part of advanced kayak instruction offered through Downstream Edge. Steamboat's Nick Hinds recently collaborated with a pair of fellow instructors on the Front Range to create Downstream Edge when they saw a niche for a network of advanced, customized kayak lessons.
"We had all worked for a variety of shops across the state that offered classes - and a general course is good for beginners or when you're learning to roll - but what happens when you're out on the river, there's six kids for one instructor and three kids swim?" Hinds asked. "With advanced boaters, you need a more personalized, one-to-three instructor to student, or less, ratio."
The swiftwater rescue techniques Hinds was teaching Hostetler and Burger were part of the three-month class he hopes will introduce the next generation of local boaters capable of safely running Class V area creeks and rivers.
"It's nice to have people with you when you're trying new stuff, rather than just hanging out at the C-hole," Hostetler said of the trips that have taken him to Willow Creek, the lower Elk River and the lower section of Fish Creek.
For Burger, the fast-moving water tumbling down Fish Creek, where "you have to be on the ball the whole time," was all it took to convince him of the importance of stroke work and safety skill mastery.
"We had to get this guy's boat off a log (who had swam), both ends were destroyed and you could see how powerful the river is," Burger said.
With a short window for quality water, Steamboat's instructors collectively struggle to introduce new people to the sport and to keep the committed interested in improving, "especially considering the drought cycle we've been in the last five to six years," pointed out Peter Van De Carr, who teaches lessons out of his Backdoor Sports shop.
Whether it was reading the basics of the current, teaching how to surf a wave or practicing a tethered rescue swim, all of the area's local instructors agreed this week's cool spell was a welcome way to extend what Van De Carr calls, "that great learnable level" on the Yampa.
For more information on EOS programs, visit www.eosteamboat.org, and for more information on Downstream Edge, visit downstreamedge.com.