Lowell Whiteman prepares for 50th anniversary
Photo Gallery
The Lowell Whiteman School's 50th anniversary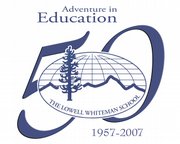 The Lowell Whiteman School celebrates its 50th anniversary this week.
Invitations
The Lowell Whiteman School's 50th anniversary weekend is by invitation only. Those invitations have been extended, and the RSVP deadline has passed.
However, Deb Smith, director of institutional advancement said anyone with a connection to Lowell Whiteman wishing to attend any of the events, can contact her at 879-1350.
Peggy Barnes Garrett's mother wanted her to be a Southern debutante. Barnes Garrett had other ideas.
Instead of graduating from Midland, Texas, in the late 1960s, Barnes Garrett wrote a letter to the Steamboat Springs Chamber of Commerce to inquire about schooling in a remote region of Colorado.
That's when she heard about The Lowell Whiteman School. Intrigued, Barnes Garrett came for an interview, was accepted and graduated in 1971. Her daughter Jennifer Garrett graduated in 1999.
On Tuesday, the mother and daughter talked about their experiences at Lowell Whiteman in anticipation of the school's 50th anniversary celebration June 8 to 10 in Steamboat Springs.
"It's a privilege to come here," Barnes Garrett said. "It's a gift. We call it the Whiteman experience."
Instead of meeting for coffee or on a park bench, Barnes Garrett and her daughter wanted to meet at Lowell Whiteman during lunch.
Over a bowl of homemade tomato soup and grilled cheese sandwiches, the two graduates, longtime teacher Joe Roberts and other Whiteman employees talked about the uniqueness of the school many people know of, but few have visited.
"As the town has changed, the school has changed," said Roberts, who has taught at Whiteman for 38 years.
The past
Lowell Whiteman opened the Whiteman Gaylord School, Inc. in 1957 with the help of Perry B. Hendricks and Garth Gaylord. The school had 26 students from the United States, Mexico, India and Egypt. The students were not Steamboat residents, and the girls lived at Lake Trail Lodge. The boys lived in camp buildings on campus.
Students left in March for two months of foreign study in San Miguel de Allende, Mexico. The foreign trips, which Lowell Whiteman students still take every spring, are a staple of the school's offerings, and the cultural immersion Whiteman students experience is something all who go say they will remember for a lifetime.
Barnes Garrett still remembers waking up in a Moroccan brick factory.
"A lot of my friends hadn't ever been on an airplane before," she said.
Part of the impetus behind the foreign trips, other than Whiteman's interest in Mexico, was the fact that the now-called Routt County Road 36 was a dirt road, and mud season really meant mud season.
While the Lowell Whiteman students were on their foreign trip in 1959, a girls' dormitory was built, and the camp's barn was converted into a boys' dormitory.
Roberts credited the creation of the Perry-Mansfield Perform-ing Arts Center and Camp, also on Count Road 36, with the vision of The Lowell Whiteman School. Perry-Mansfield was a cultural haven for students and residents outside Steamboat, putting the small community on the arts map.
The fire
One of the most monumental moments in Lowell Whiteman's history was on Feb. 9, 1977, when a fire destroyed the Main Lodge at the school. The Main Lodge housed the dining room, classrooms, a library, the offices, a kitchen, a garage and the student lounge.
The students still went to France on their foreign trip in the spring, but finished classes that year at Perry-Mansfield. The Charley Williams Lodge was started in the summer.
Perhaps more notably, the 1977-78 school year was marked by the admission of day students for the first time. In other words, Steamboat students were welcomed into Lowell Whiteman.
"After the fire, the town supported us in a lot of ways, so we started offering scholarships to day students," Roberts said.
When Lowell Whiteman opened, tuition was $2,100. Now, tuition for some students is as much as $30,650. Day tuition is $16,350, but more than one-third of Lowell Whiteman students receive financial aid, according to the Lowell Whiteman's Web site, www.lws.edu.
Tradition of skiing
Maria Quintana, a 1984 graduate of Lowell Whiteman, was crowned Women's Aerial Freestyle World Champion in 1986, setting off a World Champ-ionship and Olympic run that has put Lowell Whiteman's athletes and Steamboat Springs on the Olympic map.
The Competitive Ski Program at Lowell Whiteman was introduced in 1988 when Jim Spillane came to the school as headmaster.
The program offered a new way to recruit students, and the ski program may be what Lowell Whiteman is most famous for in Steamboat. The premise behind the Competitive Ski Program is that students take heavier course loads in the fall and spring to accommodate a competitive ski or snowboard schedule with travel during the winter.
Of course, many Steamboat residents know that Johnny Spillane, a 1999 Lowell White-man graduate and Jim Spillane's son, went on to win a Nordic combined gold medal in the 2003 World Championships, America's first gold medal in the sport.
Whiteman's heart
The heart of Lowell Whiteman remains academics. Considered a private, college preparatory school, Lowell Whiteman has a rigorous foreign language requirement and maintains a limited amount of students to accommodate better learning.
"I remember Mr. Roberts teaching us algebra," Garrett said. "The classes were small. My biggest class was nine people. I loved it."
The students go camping to bond with classmates and teachers. Barnes Garrett remembers her camping trips well. There wasn't a lot of camping in Midland, Texas.
"I took my electric curlers and my electric radio," she said. "I couldn't find an outlet. This was a whole new world."
Barnes Garrett, her daughter, Roberts and other Lowell Whiteman graduates and employees are looking forward to the 50th anniversary.
"It's very unique, from the food to the relationships to the location," said Deb Smith, director of institutional advancement. "The town helps."
Festivities are scheduled to kick off June 8 with a kayakers reunion with Jim Linville, a horseback day trip with Trenia Sanford and a golf tournament with Ed Walker.
A barbecue and opening ceremony will be held June 8 at Lowell Whiteman.
On June 9, Margi Missling-Root is going to talk about the foreign travel at Lowell Whiteman, and head of school Walt Daub and academic dean Joanne Lasko will talk about the current programs and future of Lowell Whiteman.
That evening, a 50th anniversary gala will be held.
On June 10, a farewell brunch will bring activities to a close.