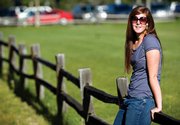 Senior year is an accumulation of lasts. My last homecoming parade and talisman events, my last volleyball game, the last ski season I'll live at home, my last prom, and my last AP exams. Soon, I'll be walking to school for the last time and taking my last calculus final. Like many in the Class of 2007, Saturday will be my last day as a student after 13 years in the Steamboat Springs School District.
Am I ready for this change? Flip through the pages in my homework planner and see the three-digit numbers counting down the days until graduation slowly dwindling as the months pass. I've been looking forward to living out my last days as a high school student since freshman year, when the focus in spring shifts from the student body to seniors. And although my English teachers say good writers avoid using cliches, I can't find more appropriate words to eloquently say that the time has gone by so fast.
Four seasons of volleyball, three years of math with Mr. Heister, four Blues Breaks and four Homecoming weeks - it seems ridiculous that what's taken so much of our time throughout the years is finished in a two-hour ceremony Saturday.
I have a friend who cries at the mere mention of any "last." She realized during that last snowy football game that any future Sailors game we attended would be as alumni. In anticipation of the year ending, for the past eight months, I didn't take into consideration this reality that graduation means moving on - outside of Steamboat for many, and outside our comfort level for all. The thing about lasts is that we can't make them stop. The only way to overcome the sadness of a last is to keep an eye on a first - my first roommate that's not a sibling, my first time living outside of Steamboat, and my first day of college classes.
I can't wait for the firsts that I know lie ahead. For this reason, not only are the graduates and their families celebrating this week, the town is, as well. Our community certainly takes pride in our successes and fully supports us as we prepare to start a new part of our lives. Having a hometown as unique as ours is something I will cherish as I move onto college next year. And next fall, while I climb Rabbit Ears Pass heading to Boulder, I know that it definitely won't be my last look at Steamboat Springs.