Tom Ross: How bicycle-friendly are we, really?
Black Beauty was capable of ferrying golf clubs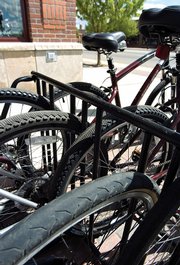 Tom Ross
Tom Ross' column appears Tuesdays and Saturdays in Steamboat Today. Contact him at 970-871-4205 or tross@SteamboatToday.com.
Find more columns by Tom here.
I almost stopped in my tracks Friday afternoon when I spied the black Schwinn parked in a rack on a downtown side street. It was a dead ringer for the old "Black Beauty" that used to carry me to the swimming pool three times a day and the golf course once a week in the 1960s.
I went inside the building and tracked down the owner so I could admire the old bike without looking like a thief. I was in the midst of a bike rack tour of Steamboat's downtown. My goal was to try to determine whether this is indeed a bicycle-friendly community (more about that later).
The Schwinn was the first brand-new, store-bought set of wheels I ever owned. Formally, it was called a Schwinn Racer and boasted the Bendix Red-Band, a two-speed kickback rear hub.
This bears a little bit of explaining. Instead of the handbrakes that most of you have on your bikes, Black Beauty had a coaster brake - press back on the pedal and the bike slows down.
The same action toggled back and forth between the bike's low and high gear.
It was indestructible, and my bike still hangs in my parents' garage (make a note of this - even when you have become an octogenarian and your children are in their 50s, you will still be warehousing their childhood possessions).
The bike I spotted in downtown Steamboat this week wasn't actually a 45-year-old bike like mine. It turns out that it is a Schwinn reproduction that offers seven speeds - all of them contained within the hub, thus no derailleur.
If you poke around Steamboat like I did Friday, you'll notice more and more people are commuting on cruiser bikes rather than the ubiquitous mountain bike. Bicycle commuting is a trend this community needs to tap into as we head into a busy summer tourism season fraught with an extra heavy dose of construction traffic.
I want to compliment the Steamboat Springs City Council for pushing hard to become an official bicycle-friendly community, but time is a-wasting. We need to get bicycle friendlier in a hurry.
With gas pushing $3.50 a gallon, there has been a noticeable up tick in the number of people commuting to work on the Yampa River Core Trail. However, a trail intended to allow pedestrians to enjoy a stroll along the river isn't a substitute for a dedicated bicycle lane along U.S. Highway 40.
After riding my current bike to several community events last summer, I became convinced that Steamboat isn't bicycle friendly at all. I had to search to find a rack where I could lock up Gary Fisher.
So I set off on foot Friday to see how many bike racks I could locate and how well they were being used.
The tubular steel rack in front of the Post Office was empty, but there was a spectacular flower-power cruiser parked in the rack behind Wells Fargo Bank. It had orange and yellow flowers painted all over the fenders and the seat.
I bumped into a longtime resident outside the bank who said he'd recently pedaled with five youngsters to a fast food restaurant on U.S. 40 only to find a homemade bicycle rack that none of them could fit their bicycles into. They gave up and laid their bikes on the grass.
One of the beefiest racks in the heart of downtown is, not surprisingly, outside Ski and Bike Kare on Fifth Street. They have room for 40 bikes, but most of the slots are filled with their own cycles. A surprising number of restaurants and offices in the downtown have modest racks in the alley between Lincoln Avenue and Oak Street.
You'll also find several of those low, semicircular racks on the corners of Eighth Street and Lincoln Avenue. There was only a handful of bikes parked there at midday Friday.
Steamboat's downtown churches don't seem to be particularly bicycle friendly. But when you think about it, who gets gussied up in their Sunday best, then hops on a bike and gets all sweaty on the way to worship? I should mention that Holy Name Preschool has a rack next to the church, and it was occupied yesterday.
City Hall and Centennial Hall each have substantial bike racks, and they are equipped with a small fleet of bright yellow cruisers intended solely for the use of city employees running downtown errands. That's pretty cool.
Owner Mike Parra said that when you consider how devoted Steamboaters are to cycling, the community is only average on the bike-friendly meter. Then again, he readily confessed he hasn't done much to rectify the situation.
Someone who is trying to make Steamboat more bicycle friendly is Emmanuelle Vital of Vital Resources. She is the city's "bicycle friendly coordinator." Her primary responsibility is preparing an application that would be submitted to the League of American Bicyclists. That step is necessary to be designated a bicycle friendly community.
However, Vital told me this week that getting more and better bike racks in town is a high priority, and she anticipates the city will work with community groups and property owners to place more permanent racks around the community. She has talked with city planning staff, representatives of Main Street Steamboat and the Public Art Board about the need.
There is strong interest in identifying aesthetically-pleasing bicycle racks the community could standardize so that they will enhance public spaces.
One of my goals for the summer is to retrieve Black Beauty from Madison, Wisc., refurbish it and get it back on the road.
When I was 11, I had side baskets mounted on my rear fender. I frequently stuffed my golf bag into one basket and rode four miles to Odana Hills muni course to play nine holes.
I'll bet I could strap a couple of pieces of PVC pipe into those old side baskets and convert them into a ski rack.
Keep an eye out for Black Beauty on the road this winter.
- To reach Tom Ross, call 871-4205
or e-mail tross@steamboatpilot.com