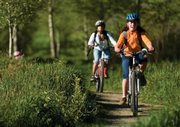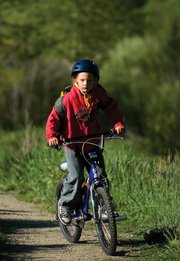 Green Team
Strawberry Park Elementary School's Green Team held a contest to encourage students to walk, ride their bikes, take the bus or carpool to school. The results have been tracked throughout the fourth academic quarter, and the parents want to award T-shirts to those students who met or exceeded expectations. The response has been so overwhelming that the parents did not order enough shirts. Paige Boucher is accepting donations from anyone interested in helping the Green Team purchase more T-shirts for the children. She can be reached at 871-1308.
Steamboat Springs — Olivia Satkiewicz usually rides the bus to Strawberry Park Elementary School, but Friday was different.
"It is a special day," Olivia, 6, said.
On Friday, Olivia rode her purple Specialized bicycle to school as part of the Strawberry Park Elementary School Green Team's initiative to increase environmental awareness among parents and students.
Olivia was one of 240 students, parents and teachers to ride or walk to Strawberry Park on Friday. Even Principal Mark MacHale rode his bike to school.
Everyone who rode or walked to school Friday was given juice and bagels from the Steamboat Springs School District. Strawberry Park parent Danielle Skov helped arrange the ride/walk to school day as part of the Green Team's ongoing effort to encourage parents to allow their children to walk, ride or take the bus.
Skov also discussed the results of a transportation survey recently administered to Strawberry Park parents.
"The main points I noticed were a lot of people picking their kids up because of after-school activities," Skov said. "We'd like to work on that to organize more carpooling and work with the activities to increase bussing to activities."
Survey results also indicated parents want increased safety at street crossings and more designated bicycle routes. They also think Amethyst Drive motorists need to drive slower. Amethyst Drive is the winding road that connects Fisk Creek Falls Road to the Strawberry Park campus.
According to the survey, a small number of Strawberry Park parents were concerned with the bus atmosphere, saying they would like elementary-only buses so young children wouldn't have to ride with middle school and high school students.
Skov said district transportation director Ed Dingledine has been cooperative with the survey and interested in the results.
"It is being addressed, but that wasn't a huge issue," she said. "The big thing is next year to work on some of these efforts."
Lisa Gamber rode to school Friday with her two sons, Max and Bennett. She usually drops them off because the bus no longer comes to their home on Routt County Road 36 near Strawberry Park Hot Springs.
"It is fun riding down the Hot Springs Road," said Bennett, a kindergartner.
Sometimes too much fun. Gamber had to urge her youngest son to steer clear of the bumps on the road Friday.
Once the children were done eating, they walked or rode their bikes to the school, and the Strawberry Park parking lot was visibly empty, despite Strawberry Park sharing a lot with the Steamboat Springs Middle School
But the bike rack in front of Strawberry Park was so full children had to lean their bikes against the chain link fence around the school.
"What an unbelievably perfect day," Skov said.