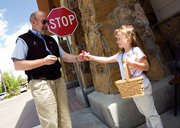 Hayden
Monday
- A flag ceremony is at 6 p.m. at the Hayden Cemetery. A barbecue dinner will follow the ceremony at the American Legion Hall in Hayden. Take a salad or a side dish. All are welcome.
Oak Creek
Today
- A Memorial Day service is at 1 p.m. in the Oak Creek Cemetery.
Steamboat Springs
Monday
- 11 a.m. A ceremony conducted by American Legion members, Veterans of Foreign Wars, their auxiliaries, cadets of the Steamboat Springs Civil Air Patrol and Boy Scout Troop 194 will be held at the Steamboat Springs Cemetery. Bus service to the cemetery will be available from 10 to 10:45 a.m. at the Steamboat Springs Transit Center.
- 12:30 to 1:30 p.m. Hamburgers, bratwurst and beans will be served at the VFW post. The lunch is a fundraiser for the men's auxiliary.