King of the road
'Roadeo' puts CDOT's finest to the test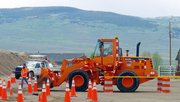 Steamboat Springs — No one said pushing a metal shot put ball up a ramp with the gaping bucket-scoop on a front-end loader would be easy. But that's sort of the point at the Colorado Department of Transportation's annual training and education "Roadeo" for snow and ice equipment.
"It takes a good steady hand on the driving course," deputy superintendent Les Anderson said about the unique May 15 event in Kremmling that brought together 42 of the department's finest maintenance professionals from six Northwest Colorado counties. The field competed for bragging rights in three competitions (two for snowplows and one for the loaders). But it wasn't necessarily the best driving skills on the tricky obstacle courses that earned competitors top honors.
"The whole course is about safety and learning about what it takes," Anderson said, pointing out that participants also had to score well on a written exam covering state and federal regulations and a pre-trip vehicle inspection test prior to the operational hot-dogging.
Since the competition's 1986 inception, organizers think the event has paid off.
"Although it's a difficult event for our employees because of the advance study required and the demanding nature of the equipment operation tests, we've found we're safer and more efficient in our winter maintenance operations as a result," said Kandace Lukow, CDOT maintenance superintendent for northwest Colorado.
The competitors enjoyed the challenging courses and knowing that the top two finishers in each event had a shot at the state competition July 31 in Gunnison - and possibly the national event to be held this fall in Estes Park.
"I really do enjoy it," said Steamboat Springs resident Kenny Hamil, who has competed the past six years. "You go through this serpentine course, and they take your spot mirrors off, so you've got about 3 to 4 inches on either side and about a 12-foot plow on the front of the truck."
Hamil took fourth place in the Tandem Drive Axle Snowplow Truck competition that combined points from the timed obstacle course, written test and the "booby-trapped" pre-trip test.
"Maybe it's a broken light, missing fire extinguisher or missing lug nut - you only have five minutes to check what would normally take 30," Hamil said about the test. "Some guys think it's a waste of a day, but it tests your skills and the equipment, and if you need help, you can identify it to a supervisor : they had an awesome brisket picnic, too."