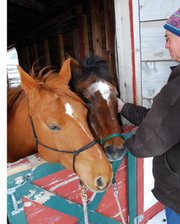 2007 EPYCS grant recipients
Steamboat Springs High School - Emerald City Opera ($1,000), Humble Ranch Education and Therapy Center ($1,000), LIFT-UP of Routt County ($500), Snowboard Outreach Society ($1,000), Special Olympics Colorado - Western area ($1,000), Strings in the Mountains ($1,500)
The Lowell Whiteman School - Disaster Emergency Relief ($250), Hayden Valley Elementary Outdoor Education Club ($1,000), Humble Ranch Education and Therapy Center ($1,000), Lake Dillon Preschool ($1,000), LIFT-UP of Routt County ($750), Partners in Routt County ($1,000), Snowboard Outreach Society ($500)
Soroco High School - Historical Society of Oak Creek and Phippsburg ($550), LIFT-UP of Routt County ($2,000), Partners in Routt County ($2,000), Stephen T. Marchello Scholarship Foundation ($1,000)
Hayden High School - Advocates Against Battering and Abuse ($1,000), Emerald City Opera ($1,000), Partners in Routt County ($1,000), Totally Kids ($2,000)
Moffat County High School - Community Budget Center ($3,000), Moffat County Habitat for Humanity ($1,500), Northwest Colorado Dental Coalition ($500), Ronald McDonald House ($1,000)
Meeker High School - Humble Ranch Education and Therapy Center ($500), Northwest Colorado Dental Coalition ($750), Colorado Childhood Cancer and Disabilities Camps ($1,000), Colorado State University Cooperative Extension 4-H ($750), Colorado West Mental Health ($1,000), Energy Outreach Colorado ($500), Rio Blanco County Social Services ($1,000)
Steamboat Springs — Cheri Trousil is so appreciative of the granting process through El Pomar Youth in Community Services that she tries mightily to invite the grantees to her office and makes sure to attend as many EPYCS functions as possible.
Of course, it isn't difficult to convince high school students to visit her office at the Humble Ranch Education and Therapy Center off Routt County Road 14.
Being outside with animals is an attractive option for many teenagers, but the work of the education and therapy center also has a place in the hearts of Steamboat Springs' EPYCS program, which is why the students opted to give Humble Ranch's center $1,000 during Wednesday's grant presentation at the Steamboat Grand Resort Hotel.
Six area high schools - Steamboat Springs, Hayden, South Routt, The Lowell Whiteman School, Moffat County and Meeker - awarded more than $48,000 to 33 area nonprofits at the banquet.
"For us, it's not just about getting the money, but it's being part of the program," said Trousil, director of the Humble Ranch's programs. "What EPYCS does, unlike other grant applications, is they want the kids to meet the nonprofits, so they can ask questions. Not only are you trying to raise money for your organization, but you are educating high school kids about philanthropy and educating them about nonprofits."
In each high school, EPYCS clubs create mission statements in the fall, raise funds to help gift to nonprofits and make grant decisions later in the year. EPYCS students prepare for their role as grantmakers by learning about leadership, philanthropy, community service and nonprofits. Each club raises a minimum of $500 and receives an additional $7,500 from the El Pomar Foundation to grant.
"EPYCS is unlike any high school program offered," said Anita Allen, EPYCS coordinator. "Rather than raising money for their own operation, they have the opportunity to raise money for a cause larger than themselves or their schools."
This year, Steamboat Springs High School students gave money to arts organizations, nonprofits that integrate the Hispanic population with the community and organizations that serve at-risk or disabled children and young adults.
"We generally agree on who is going to get money from us," Steamboat senior Max Pensack said. "The hard thing is figuring out how much to give to each one. We have $8,000 to give, but I feel pretty good about who we gave money to this year."
Partners in Routt County received $4,000 from three high schools this year, which Executive Director Libby Foster said will be used to fund group activities with the senior mentoring program.
In the senior mentoring program, high school juniors and seniors mentor elementary-aged children, so Foster said she enjoys applying for EPYCS grants because high school students benefit from the senior mentoring program.
"I think the whole EPYCS program is the best thing ever," she said. "It's almost like they invested in themselves."
The EPYCS program is operating in 140 high schools across the state. This year, EPYCS students granted more than $1.2 million. Since the program's inception in 1991, students have granted $9.4 million to more than 5,000 Colorado nonprofits.
EPYCS is one of the nation's largest youth philanthropy programs.