'Boat's Cup contender
Senators' Preissing returns to area after NHL finals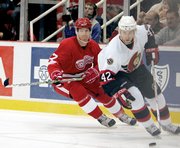 Steamboat Springs — Colorado is where Tom Preissing found the "stepping stone" that helped catapult him to a career in the National Hockey League. The 29-year-old defenseman for the Ottawa Senators made a national name for himself when he helped the 2003 Colorado College Tigers to a WCHA regular season championship and an NCAA quarterfinal berth on his way to first-team All-America and Hobey Baker Award-finalist honors.
Then, the San Jose Sharks picked up Preissing and gave him his shot. The 6-foot, 195-pound blue-liner delivered a stellar 2003-04 season as the team's rookie of the year and increased his pro playing stock. Last summer, a surprising trade landed Preissing in the ranks of the Eastern Conference powerhouse Ottawa Senators.
Now Preissing finds himself preparing for a Stanley Cup showdown with the Western Conference champion Anaheim Ducks.
"When you're a little kid, you want to be the kid to hit the home run in the World Series or in the street hockey game, where you want to score the game-winner in overtime - it's so cool, there's just such an opportunity there for me," Preissing said by phone, Friday from Ottawa. "There's so few guys, even in the NHL, that get that opportunity."
But the kid who grew up dreaming of scoring that game-winner in Rosemount, Minn., will be returning to Colo-rado once the cup craziness subsides.
Preissing and his fiancee, Danielle Chappell, purchased a home in Steamboat Springs last summer. Chappell recently completed her student-teaching assignment at Steamboat Springs Middle School, where she previously worked as an ESL aide.
"We always assumed we would go back to a mountain town," Preissing said. "The Ottawa trade took me by storm, so we always wanted to have a place to call our home."
Preissing made the most of the transition from San Jose to Ottawa, where "people care about (hockey) deeply." In 80 regular season games, Preissing notched 38 points and tied with Detroit's Nicklas Lidstrom to lead all NHL defenseman in plus/minus with a plus-40 rating.
Colorado also was where Prei-ssing had that first feeling that he had made it.
"There was a moment, my rookie year, when we were playing at Colorado (the Avalanche), when (Peter) Forsberg was still there," Preissing said. "It was only our fifth or sixth preseason game. I started the game and Colorado had the full lineup - (Joe) Sakic, (Alex) Tanguay, (Milan) Hejduk and (Adam) Foote were out there - and there were still guys from (Colorado College), about 20 of them, that came to watch. It was amazing."
But now Preissing is focused on the task at hand - preparing and not "losing (his) edge" in the break from play after the Senators beat the Buffalo Sabres in five games.
Preissing has averaged between 15 and 18 minutes of ice time throughout the playoffs and has seven points, many off the Senators' second power-play unit.
When the puck drops in Anaheim at 6 p.m. (broadcast on Versus) Monday for Game 1 of the Stanley Cup Finals, Preissing will be realizing his chance to play at the top, contributing to the ranks of a hot Senators' squad (12-3 in the postseason) hungry for its first Stanley Cup win.