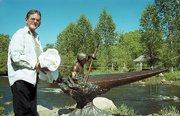 Tyler Mark Richardella, a Steamboat Springs artist and sculptor, died Tuesday at University Hospital in Denver. He was 30.
Richardella was diagnosed with a rare syndrome as an infant, and doctors warned his parents that he likely would not live past his teens. But he never let his battles with illness stop him from achieving his goals, said his father, Bob Richardella.
"He was sick, but he was always able to do something to give back to other people," Bob Richardella said Thursday.
Added brother Gable, "He was the most generous person I knew."
Tyler Richardella is best known for his sculpture of Olympic kayaker Rich Weiss that graces Rich Weiss Park along the Yampa River just east of downtown Steamboat. Richardella was just 20 when he was commissioned to create the sculpture in 1997. It was dedicated in the park in June 2001.
"It was Tyler Richardella's rendering of Weiss that froze time, captured it in bronze," Jon Libid wrote in the Pilot & Today about the dedication ceremony. "He had stopped the waters of the mighty Yampa as it held its favorite son, breaking from its foamy embrace with a determined look on his face."
Like Tyler, Weiss died young. He drowned while kayaking the White Salmon River in Washington state in 1997.
Tyler never met Weiss, but he studied images of the kayaker and captured him in painstaking detail in his sculpture. "I wish I got to know him," Tyler said at the dedication ceremony. "I feel like I do know him."
As a child, Tyler had a passion for the Garfield comic strip and cartoon. Through the Make a Wish Foundation, he traveled to Indiana to meet Garfield creator Jim Davis, sparking a lifelong interest in art.
Tyler created his first sculpture at age 14 and completed more than a dozen sculptures during his lifetime. He also painted and participated in several shows at the Depot Art Center and showed his work at Wildhorse Gallery. He won numerous honors for his artwork.
He was a 1995 graduate of Steamboat Springs High School and, most recently, was studying Computer-Aided Design at Colorado Mountain College.
"He had a great sense of humor," said Tyler's mother, Leslie Richardella. "He was my best friend."
A memorial service is at 2 p.m. Saturday at the Kingdom Hall of Jehovah's Witnesses on Elk River Road. A reception with a showing of Tyler's artwork is at the Depot immediately following the service.