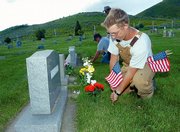 Routt County Memorial Day events
Hayden
Monday
- A flag ceremony is at 6 p.m. at the Hayden Cemetery. A barbecue dinner will follow the ceremony at the American Legion Hall in Hayden. Take a salad or a side dish. All are welcome.
Oak Creek
Sunday
- A Memorial Day service is at 1 p.m. in the Oak Creek Cemetery.
Steamboat Springs
Today
- American Legion Ladies Auxiliary will have traditional red poppies available in front of City Market and Safeway. Poppies also can be picked up at Veterans of Foreign Wars Post No. 4264.
- 5:30 p.m. Post members, auxiliary members and Boy Scouts will place flags on the graves of all veterans buried in Steamboat Springs Cemetery.
Monday
- 11 a.m. A ceremony conducted by American Legion members, Veterans of Foreign Wars, their auxiliaries, cadets of the Steamboat Springs Civil Air Patrol and Boy Scout Troop 194 will be held at the Steamboat Springs Cemetery. Bus service to the cemetery will be available from 10 to 10:45 a.m. at the Steamboat Springs Transit Center.
- 12:30 to 1:30 p.m. Hamburgers, bratwurst and beans will be served at the VFW post. The lunch is a fundraiser for the men's auxiliary.
Steamboat Springs — A variety of Memorial Day ceremonies throughout Routt County will pay tribute Monday to those who made the ultimate sacrifice for their country.
"It has been a tradition here in Routt County," said Jim Stanko, district commander for the American Legion and post adjutant for Veterans of Foreign Wars Post No. 4264 and American Legion Post No. 44. "It's one of the oldest traditions."
Routt County began holding Memorial Day ceremonies in 1921, Stanko said. But the Memorial Day tradition began 53 years earlier.
Gen. John A. Logan, commander of the Grand Army of the Republic, inaugurated Memorial Day on May 5, 1868. He declared the day for U.S. veterans to pay tribute to those who died serving their country.
This year's holiday marks the 90th anniversary of the United States' entry into World War I. Nine Steamboat Springs residents died during the war. Stanko said it was appropriate to honor their memories during Monday's 11 a.m. memorial service at Steamboat Springs Cemetery. All nine of the veterans will be given a funeral service.
"Seven of the nine have not had a Routt County funeral," Stanko said, primarily because only two of the veterans are actually buried in the cemetery. They are Guy Utter, who died in the Battle of Verdun, and James Noyce, Steamboat's first aviator. Noyce was killed during a training mission.
The bodies of the other seven World War I veterans did not return home. They are Charles Baer, Wesley Gifford, Dr. Robert Gilmore, Leo Hill, George Lawson, Marcy Meaden and Raymond Whitmer.
The ceremony also will include the marching on of the service flags, a firing party and presentation of the National Colors. There will be a changing of the guard - a ceremony meant to symbolize the memories of veterans buried in the cemetery.
Another Memorial Day tradition practiced across the U.S. is wearing red poppies. Poppies will be available from 9 a.m. to noon today in front of City Market and Safeway.
Veteran Irwin "Fry" Frei-berger's said he's concerned younger generations don't realize the sacrifices that have been made for them.
"Memorial Day to me is a reminder to the general public - a majority of who, thank the Lord, have never been under the threat of a gun," Freiberger said. "No foreign army has ever dared invade this county, and I think that's lost with a lot of the young people."
Vietnam veteran John Long said Memorial Day also is a time to think of soldiers currently putting their lives at risk.
"It's important that people know freedom is not free," Long said.
He estimated between 20 and 30 Routt County residents are serving in Iraq and Afghanistan.
Oak Creek and Hayden also have ceremonies planned for Monday's Memorial Day holiday.