Recurring event
Brent Romick Rodeo Arena, 501 Howelsen Parkway, Steamboat Springs
All ages / $7 - $14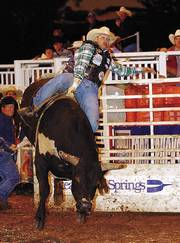 Steamboat Springs — by John F. Russell
Longtime rodeo personality John Shipley understands that the sport of rodeo continues to evolve each year, but the president of the board of directors of the Steamboat Springs Professional Rodeo Series remains grounded in its roots.
"It's important to remember where we came from," Shipley said. "This is the original American sport, and it's not that different from the type of things you see on ranches in this valley every day."
Although the sport may seem unchanged on the surface, Shipley said changes in the way livestock has been bred and the training today's cowboys go through before they climb aboard, has made the sport more entertaining and safer for the athletes involved.
For 10 weeks each summer, the Steamboat Springs Professional Rodeo Series is a part of the Yampa Valley heritage bringing bull riding, steer wrestling, tie-down roping, saddle bronc, bareback, team roping and barrel racing to thousands of visitors and locals.
Shipley said the series is a 10-week production, but the revolving cast of characters guarantees changes.
"It doesn't matter if you've already been to a rodeo in Steamboat or somewhere else, this is going to be a different show. It's a different show every week, " Shipley said.
And although the script may change, rodeo is a tradition in Northwestern Colorado that stretches generations. That tradition is played out in arenas in Steamboat Springs, Hayden and Moffat County and help preserve our Western lifestyle.
In the summer, rodeo can be found in Steamboat Springs at the Brent Romick Rodeo Arena every Friday and Saturday night from June 22 through Aug. 18.
But professional rodeo is not the only game in town.
There also is an established series of ranch rodeos that stretch from Walden to Craig during the summer. Steamboat will host an event at the Romick rodeo arena at 5 p.m. July 1. The event will be preceded by a cattle drive at 10 a.m.
There also will be a ranch rodeo as part of the Routt County Fair in Hayden at 2 p.m. Aug. 19. Walden will host a ranch rodeo at 1 p.m. Sept. 3.
Ranch rodeos are rooted in the western lifestyle, and the events depict what takes place on a working ranch. Cowboys typically work in teams of four, and most compete in four separate events taking place at the same time inside a rodeo arena. The events are designed to test the cowboys' skills on a horse, with a rope and with cattle.
"It's fast-paced and a lot of fun," ranch rodeo competitor Dean Vogelaar said. "Cowboys have to do things like rope a calf and then mock brand it. You have to be good at heading and healing and all the other things that take place on a working ranch."
Craig also offers several rodeos during the summer, starting with a Professional Bull Riders event as part of Grand Olde West Days during the Memorial Day weekend. Other rodeos include the Little Britches Rodeo from June 29 to July 1 and a high school event from Sept. 21 to 23.