Rancher on road to recovery
Hayden's Avis Funk, 89, healing up at Sandrock center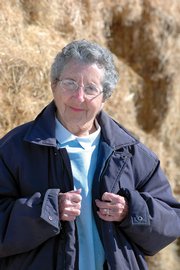 Steamboat Springs — Longtime Hayden rancher Avis Funk is recovering at the Sandrock Ridge Care and Rehab Center in Craig from an injury she sustained while working on her ranch last month.
Funk's son, David Funk, said his 89-year-old mother was helping him on the ranch, like she often does, when she hurt her calf on the tractor. David does not know exactly how the accident occurred, and Avis does not remember.
"We're just trying to get her healed up," David said.
David, who has been an emergency medical technician for 20 years, said Avis did not need medical attention right away, but he took her to the hospital because the wound was not healing.
David said Avis had received care from the Visiting Nurse Association. David said he and Avis were following the advice of doctors who said she should be treated at the nursing home, where she could also get physical therapy. Avis went to the nursing home Tuesday, David said.
"You or I would heal up faster, but older people need a little longer," David said. "She's doing well. She just needs time."
David, who lives with his mother, did not know when Avis might return home.
"We'll see what the doctor says," David said.
David said Avis likely would want to continue helping on the ranch if she was able.
"Her heart is in it," said Hayden Congregation-al Church pastor Janet Babish, who visited Avis when she was at Yampa Valley Medical Center.
Babish said Avis is taking antibiotics to fight an infection that developed in her wound.
"I do know it's not healing like it should," Babish said. "Hopefully the antibiotics will help it heal."
David said Avis is looking forward to returning to her weekly bridge game and playing the organ at the Hayden Congregational Church - a job she inherited more than 20 years ago.
"She really is in good spirits, and she feels like she's getting good care," Babish said.