Racing offered at Hayden Speedway
Past Event
Saturday, June 2, 2007, 7 p.m. to 11 p.m.
Hayden Speedway, 2 miles south of Hayden on Lincoln (1.5 miles past the fairgrounds), Hayden, CO
All ages / $3 - $7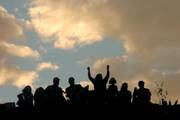 Hayden — Tucked into the hills and just two miles south of Hayden on Lincoln Avenue sits the Hayden Speedway.
A throwback of sorts, the Speedway features a quarter-mile oval dirt track, seating for fans and lights for racing.
What's not throwback, however, is the racing.
With four series running Saturday nights and special events held throughout the summer, the Speedway provides a friendly sort of entertainment viable for the family or the hardest of race enthusiasts.
With races in Sport Stocks, Street Stocks, Super Streets and Modifieds, as well as a weekend with ASCS Sprint Cars, the Hayden Speedway has a little something for everyone.
"We tried to make sure that's what it's for," race promoter Phil Goodwin said. "We got it set up for a cheap night at the racetrack for the family."
The Hayden Speedway was built on an old landfill in 1964. Through the years, it's seen many additions. In the late 1970s, tires were inserted for guardrails, and in the late 1980s, lights were brought in for night racing. The biggest change came in 2000, when the track was re-cut and enlarged to a true quarter-mile track. It also was widened to 80 feet, and the pit areas were made bigger.
"From the beginning days to now, it's almost night and day," said Justin Gallegos, former president of the board and track consultant. "I would say the track has evolved as much as the sport has."
Goodwin said that this year, the fields will be bigger and the racing will be more intense. This year's track will feature 50 new lights as well as improvements throughout the track.
"I feel that we put on a pretty good show," Goodwin said. "If they enjoy racing, they're certainly going to enjoy coming out to the speedway. It should be even better racing this year."
For more information about the speedway, visit www.haydenspeedway.com.