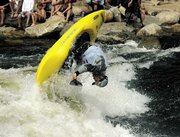 Steamboat Springs — by Dave Shively
Every summer, people feel free to learn to kayak on the last free-flowing river in the Colorado River drainage.
The section of Yampa River through downtown Steamboat Springs provides a world-class resource for those passing down their boat-rolling skills and river-running know-how to the next eager crop of kayakers.
"Teaching on the Yampa is great," said Barry Smith, who instructs lessons at Colorado Mountain College and his Mountain Sports Kayak School. "It's so gentle, but there's rocks and features to get quite confident on. And all the manmade structures, the small waves, the whole section - from one end to the other - is great."
Chan Zwanzig, the local founder of industry giant Wave Sport Kayaks, understands the Yampa's appeal for novices as well as expert paddlers.
"For a town run, people can take their families down the run in a non-threatening environment that has a lot going on," Zwanzig said. "But why so many people treat Steamboat as a kayaking destination is that from April 15 to mid-June, there's no other water in Colorado that resembles what we have here."
What Steamboat "has" are Olympic-caliber kayak slalom training gates in Dr. Rich Weiss Park as well as two marquee hydraulic holes near the Bud Werner Memorial Library - grouted manmade features that pack enough punch for skilled play-boaters to swap ends and loop tricks in the retentive surf.
"It's a navigable beginner-intermediate run with expert terrain features," Zwanzig said.
"They are the best in the state," said Backdoor Sports owner Peter Van De Carr. "They're the best designed facilities through a range of flows - awesome at 400 (cubic feet per second) and a thumper at 3,000."
But the Yampa doesn't thump for long, with high water typically peaking near the end of May and other technical local boating sections, from the Elk River to Fish Creek, mirroring its runoff flow. This leaves experts heading west to the desert canyon Cross Mountain Gorge section of the Yampa, near Maybell, or east to the steep, dam-released Gore Canyon section of the Colorado River, near Kremmling.
Intermediate boaters prefer the milder sections of the upper Colorado below Gore Canyon, the short season on the remote Northgate Canyon section of the North Platte, near Walden, and even the Blue River near Silverthorne, which may provide a rare paddling treat this summer because of high levels at the Dillon Reservoir - and of course, the Yampa, as its grade eases considerably and its volume increases west of Steamboat to its meeting with the Green River in Dinosaur National Monument.
Steamboat has two options for beginner to advanced kayak instruction, clinics and gear: Backdoor Sports at 879-6249 or Mountain Sports Kayak School at 879-8794. Check the Yampa's daily river flow on the Web at the U.S. Geological Survey site.