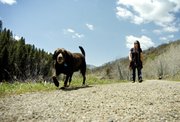 Steamboat Springs — Hiking opportunities abound in Northwest Colorado. Besides the miles of trails and acres of open public lands to be explored, hikers can find an exciting range of wilderness environments - including Alpine tundra, rivers and creeks, lush forests and desert canyons.
"It's got quite the mix for people who want to explore those different kinds of environments - it's all here," said Rob Schmitzer, outdoor recreation planner for the Little Snake Field Office. The Little Snake Resource Area is Bureau of Land Management land in Moffat County.
Rachel Franchina, recreation program manager for the Hahn's Peak/Bears Ears Ranger District of the U.S. Forest Service, said there are at least 350 miles of trails in her Routt County District.
That district is part of the Medicine Bow-Routt National Forest, which has more than 900 miles of trails available for use. Options in Northwest Colorado range from the very easy and accessible to the more strenuous hikes in the backcountry. Starting from Steamboat Springs, there are various well-marked and well-traveled trails that provide a good feel for the area. Here are some suggestions:
Emerald Mountain, which includes Howelsen Hill in downtown Steamboat, is a popular option. Hikers can start at the bottom and travel up to the quarry, a steady climb of about 1.5 miles that provides expansive views of the Steamboat area.

Mount Werner also is possible to hike, though a good option can include riding the gondola at the Steamboat Ski Area to the top of the mountain and then hiking down. Season-pass holders can ride up the gondola for free, and gondola tickets for visitors cost $18 for adults, $13 for teenagers and $8 for children ages 6 to 12 for the day. Daily operations begin June 15 and run through Aug. 26. Labor Day Weekend operations will be Aug. 31 through Sept. 3. After Labor Day Weekend, the gondola will be open weekends only, on Saturday and Sunday, through Sept. 23

Spring Creek Trail begins at East Maple and Amethyst streets, close to Steamboat Springs High School in downtown. The first 1.5 miles are a relatively easy climb before the road narrows to a single-track path that climbs 1,200 feet to Buffalo Pass.

Trails to and above Fish Creek Falls provide hikers with everything from a short hike to the waterfall to an extended 12-mile roundtrip day hike to Long Lake. To get to the Fish Creek Falls when going east on Lincoln Avenue, turn left onto Third Street. At the next stop sign, turn right onto Fish Creek Falls Road and follow it for three miles to the parking area.
Some top hiking trails in Moffat County are:
Two segments of the Yampa Valley Trail that are along Juniper Mountain and Cross Mountain Canyon. The Juniper Mountain trail is about two miles from the trailhead to the mountain's top. The Cross Mountain Canyon trail is about three miles along the south rim of the canyon. That trail provides "pretty spectacular views," Schmitzer said.

The Cedar Mountain hiking trail is a three-mile loop trail that provides great views of the valley and Flat Tops Wilderness Area and the Elkhead mountains.
Another option on BLM land is to hike through backcountry areas that do not have developed trails. Schmitzer said interested people should stop in the Little Snake Field Office and check out maps and get advice of neat areas to go.
"There are some pretty spectacular things out here that are hidden away or challenging," he said. "This area offers a lot of solitude if you want to get off the roads and do some exploring."