For More:
High Adventure Rafting: (970) 879-8747 or (800) 810-8747
Colorado River Guides: (970) 638-9742 or (800) 938-7238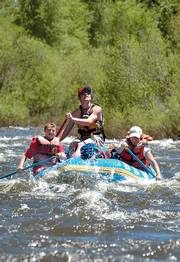 Steamboat Springs — The good news for whitewater rafters in Northwest Colorado this summer is that giant Dillon Reservoir filled early, ensuring water releases that should help keep the upper Colorado River south of Steamboat Springs interesting all summer.
The mighty Colorado, an hour south of Steamboat will produce Class III (family friendly) rapids through July and most likely well into August.
Colorado River Guides, a Routt County company whose owners live in Yampa, just south of Steamboat Springs, has great depth of experience in showing people a good time on the Colorado River. The summer rafting operation is based right on the river at State Bridge on Colorado Highway 131. High Adventure Rafting, based in Steamboat, also offers Colorado River trips with expert guides.
They don't shuttle guests from Steamboat, but meet them on the river and drive them upstream to put-in points at Radium or Pumphouse. Many lodging companies in Steamboat will arrange a van ride to State Bridge for people who don't have their own vehicles.
Colorado River Guides rates on the Colorado River begin at $40 for adults and $30 for children ages 12 and younger for a half-day trip. Full-day rates are $70 and $50 and include lunch.
High Adventure's half-day trips cost $71 for adults and $55 for children. Full-day trips are $93 and $75 and include a shuttle ride. For a real floating adventure, they offer Colorado River trips up to four days long.
High Adventures owner Jarett Duty said his company emphasizes raft trips in Northern Colorado as long as streamflows permit. The company offers a mountain wilderness float on the North Platte and a mild desert wilderness float through Juniper Canyon on the Yampa west of Craig.
Their most popular trip is "The Daily Double" on the Elk River where it pours out of the Mount Zirkel Wilderness.
"People love it because they can accomplish two of their goals in one day. We raft 3 1/2 miles on the Elk from 10 a.m. until noon, and it's a great float. Then we break for lunch followed by a two-hour horseback ride at Elk River Guest Ranch."
The daily double costs $135 for adults and $113 for children.
CRG will offer its own "Saddle and Paddle" trip from the State Bridge Landing on the Colorado this summer. Call for details.
For people who have experienced several whitewater raft trips and have the confidence to wield their own paddle on an intense stretch of the Yampa River, is waiting. Don't blame us if you feel like a pinball when that particular thrill ride is over.
For athletic adult rafters, Cross Mountain Canyon in Dinosaur National Monument is one of the most intense floats in the state. Clients must be capable of wielding a paddle themselves.
"We frequently turn people down for this float after we meet them in the morning," Duty said.
Cross Mountain Canyon, at $115, is a genuine adrenaline fix.