Past Event
Saturday, July 7, 2007, 6 a.m. to 8 a.m.
Bald Eagle Lake, U.S. Highway 40 east of Steamboat Springs, Steamboat Springs
All ages / Free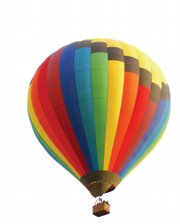 Steamboat Springs — For two days this summer, scores of hot air balloons will not only fill the skies above Steamboat Springs with a rainbow of color - the balloons will also splash reflections of color onto water below.
The Hot Air Balloon Rodeo, a Steamboat Springs summertime tradition, will host its 27th annual event at a new location this year: Bald Eagle Lake, a popular recreation spot on U.S. Highway 40 south of downtown.
"We're excited about the new location because we'll really be able to take advantage of the beauty of the (Yampa) Valley," said Riley Polumbus, communications director for the Steamboat Springs Chamber Resort Association. "I think the new location will allow more people to be right there on the launch field."
The rodeo is at a new location this year because of construction of the Wildhorse Meadows development on the longtime balloon rodeo site, the Meadows field on Mount Werner Road, behind The Tennis Center at Steamboat Springs.
The balloon rodeo features about 40 balloons every year, with pilots from near and far.
"They come year after year," Polumbus said of participants in the event. "It's not only a popular event for spectators, it's a popular event for pilots, also. This is a unique place to fly, because you're in the mountains."
After participating in last summer's balloon rodeo, balloon pilot Dewey Reinhard of Colorado Springs echoed that sentiment and said flying in the Yampa Valley is preferable to flying on the Front Range because the cold air gets trapped between the mountains, making the air currents more stable for the balloons.
"This is a very special place to fly," Reinhard said.
Because of limited parking at Bald Eagle Lake, the Chamber Resort Association will provide shuttles to and from the event, Polumbus said. Check the Web at www.steamboatsummer.com for updates on transportation services for the event.
The Balloon Rodeo is the same weekend as the annual Art in the Park festival, which features the work of local and regional artisans displayed and for sale in a park setting that includes room for children to romp, live music, food and drinks.
"It's a very colorful couple of days all around Steamboat," Polumbus said.
And this year, the balloon rodeo and art festival fall on a weekend that follows a mid-week Fourth of July, meaning vacationers might want to plan their hotel stays early.
Last year, the holiday brought more than 11,000 people to Steamboat.
"I think we're going to see a lot of people who come up for the Fourth and stay through the next weekend," Polumbus said. "That whole week should be a very fun week."