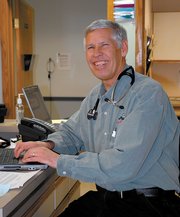 Steamboat Springs — A man known for his sunny, contagious smile has a new reason to beam.
Dr. James Dudley, a family physician who has practiced in Steamboat Springs since 1980, is the recipient of the 2007 Distinguished Physician High Plains Walking Stick Award. Given to one physician annually by the Department of Family Medicine at the University of Colorado at Denver and by the School of Medicine at the university's Health Science Center, the award honors rural community physicians with 20 or more years of service. Physicians who receive the award also work with medical students and residents, particularly those students interested in pursuing family medicine in rural communities. In addition, award recipients must be a positive influence in their medical and local communities.
Dudley received the walking stick, a plaque and a $1,000 award at a formal ceremony Thursday during the School of Medicine's Honors Convocation.
"It's exciting to be nominated to receive this award by the UCDHSC School of Medicine's Department of Family Medicine, as well as by the past recipients of the Walking Stick," said Dudley in a press release. "The previous award winners are an impressive group of family medicine practitioners, and to be considered a part of that group is truly a great honor."
Dudley shares the Steam-boat Medical Group offices on Pine Grove Road with partners Dr. David Williams, Dr. Louise Thielen and Dr. Kristin Wilson.
In March, the Steamboat Pilot & Today profiled Dudley in its special "Locals" section.
"I take care of pretty much everything," Dudley said about his job working with people of all ages. He said he treats ailments ranging from the common cold to broken bones, pneumonia and even walk-in lacerations.
"I really do like it all," Dudley said. "That's why I love being a family physician."
Outside of the office, Dudley is a charter member of the Steamboat Springs Optimist Club, a board member and coach for the Steamboat Springs Soccer Association, a team physician for Steamboat Springs High School and a frequent guest speaker to local school children of all ages.
Dudley also enjoys a wide variety of leisure activities, including cross-country skiing, working on computers and reading fiction.
- To reach Mike Lawrence, call 871-4203
or e-mail mlawrence@steamboatpilot.com