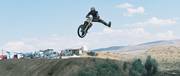 Craig — Dirt biking and Northwest Colorado are a natural pair. Feeling the gust of wind blow through your hair is a great way to relax and get a surge of adrenaline.
Ned Miller, sportsman information specialist for the Craig Chamber of Commerce, recommends Sandwash Basin in the Little Snake Resource Area for dirt-biking enthusiasts.
"If you and I were to go dirt biking today, I would recommend we head to Sandwash," Miller said. "There are all sorts of roads and trails there. The terrain is mostly rolling, brushy hills with some cedar."
To reach the Sandwash Basin from Craig, take U.S. Highway 40 to Maybell, turn onto Colorado Highway 318 northwest for about 25 miles until you reach Moffat County Road 46.
Stay northbound on C.R. 46 for about seven miles before heading northeast on C.R. 80. After about 40 miles on C.R. 80, you will reach the start of Bureau of Land Management trail 2051.
The approximate driving time from Craig is 90 minutes.
A pamphlet available at the Craig Chamber of Commerce advises users to be aware of Sandwash's remote location and dry red rock terrain.
"You are out there, so come prepared with plenty of water and gas," the pamphlet reads. "This is typical Western Slope terrain with lots of dry sagebrush and other very hard shrubs. Just fall into one and you will understand what we mean."
The Yampa Valley Sportsman's Riders Club provides its members unlimited access to the only public track in the area. The track is south of Craig.
To purchase a membership, call Jill at Planet Powersports at (970) 826-0060.
Once members pay $100 for single riders or $145 for a family, they are given the combination to the gate.
The track is for all-terrain vehicles and dirt bikes.