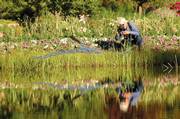 In the middle of Steamboat Springs, there is a 6-acre oasis known as the Yampa River Botanic Park. This city park hosts 40 gardens, 500 trees and many species of wildlife.
"It has its own ecosystem that's designed so that you don't see any houses or roofs," park director Gayle Noonan said. "The fact that it is a hidden gem is my favorite part."
Serenity is another one of the park's perks. It is a great place to study the plants and landscapes of Northwest Colorado.
"Some people come to find out what they can grow in their own garden," Noonan said. "It's a great resource."
The land for the Botanic Park was a hay meadow that was donated to the city by Bob and Audrey Enever in 1991. The earthwork was done in 1995, trees were planted in 1996, and the park was opened to the public in 1997.
The park is maintained daily by a full-time staff and volunteers who come every Wednesday for "social gardening." They provide routine maintenance, weeding and, of course, socializing.
A child-size amphitheatre was built a couple of years ago in the Children's Garden, where Wee Sprouts from Yampatika will be held. Wee Sprouts is a program in which children can learn what it's like to get their hands dirty and watch a seed grow into something they can eat. The amphitheatre is available for small events by reservation.
"This summer, you can look forward to some free evenings of children's entertainment," Noonan said. "The park also hosts the "Music on the Green" concerts in collaboration with Strings in the Mountains. The concerts provide free performances by young artists in residence and local musicians. They take place at 12:15 p.m. every Thursday from June 14 through Aug. 16.
The park is free to visit and is self-guided with a map and color-coded signs in all the gardens. Sculptures and 27 picnic benches can be found along the park's winding trail.
Visitors are encouraged to access the park via foot or bike from the Yampa Valley River Core Trail, take the bus or carpool.
The park is open from dawn to dusk from May 1 to Oct. 31, and an electric cart and tours for people with disabilities is available by appointment only. Call Noonan at 846-5172 to make a reservation.