Bluegrass and beyond
Head for the Hills takes pickin' to new places
Past Event
Saturday, May 26, 2007, 10 p.m.
Mahogany Ridge Brewery & Grill, 435 Lincoln Ave., Steamboat Springs
21+ / $5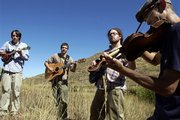 This ain't no ordinary pickin' band.
Head for the Hills, a Fort Collins quartet of string-instrument acrobats who will sizzle a Steamboat stage Saturday night, plays bluegrass like third-graders play at recess - with energy, enthusiasm and a flair for experimentation that often takes things in unexpected directions.
"It's not really like a traditional bluegrass show," guitarist and vocalist Adam Kinghorn, 22, said about the band's live shows. "I would say it's very high energy. As young pickers right now, we're really excited to play fast all the time - we do a lot of segues from one song right into the next."
Those segues often lead into improvisations and "pickin' instrumentals" that revive traditional melodies into new interpretations of the bluegrass theme, Kinghorn said.
"These are melodies that have lived on since being played in Appalachia a hundred years ago," Kinghorn said. "I love it when we can bring those back in a new way."
In addition to Kinghorn, Head for the Hills includes Mike Chappell on mandolin, Matt Loewen on bass and clarinet and Joe Lessard on the fiddle. All four supply vocals. After meeting each other in a Colorado State University dorm in 2003, the band has opened for such bluegrass giants as David Grisman, Yonder Mountain String Band, Pete Wernick of Hot Rize, and Hot Buttered Rum. They'll take the stage Saturday night at Mahogany Ridge Brewery & Grill, at Fifth Street and Lincoln Avenue in downtown Steamboat Springs, starting at about 10 p.m. The cost is $5.
The Steamboat show will be Head for the Hill's second stop on a swing through western Colorado that will culminate at the annual Telluride Bluegrass Festival, June 20 to 24.
The tour then will expand into Montana, Wyoming and the Midwest in a summerlong celebration of the band's debut album, "Robber's Roost."
In addition to original songs, Head for the Hills - like any self-respecting bluegrass band - plays a variety of covers.
"We love to feature a few Bill Monroe songs in every set, like 'Uncle Pen' or 'My Little Georgia Rose,'" Kinghorn said. "We've also done some Paul Simon - 'Fifty Ways to Leave Your Lover' and 'Me and Julio.' Paul Simon has probably been the most influential songwriter for me. And we always like to pull out a weird cover at the end of the night to get people going - we like to change up our show quite a bit."
Like with "grasshop."
Lessard, the band's fiddler, also plays in two Boulder-based hip hop bands, and will often bust out the vocal beatbox on stage during a bluegrass show.
"We'll do a little beatbox and fiddle instrumental," Kinghorn said. "We call it grasshop : I think we kind of look at bluegrass music as our vehicle, but I wouldn't say we're confined to it by any means. As far as songwriting goes, there are no limitations."