Past Event
Saturday, July 7, 2007, 9 a.m. to 5 p.m.
West Lincoln Park, West of downtown, near Bud Werner Memorial Library, Steamboat Springs
All ages / Free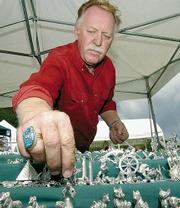 Steamboat Springs — Like many local Steamboat Springs events, Art in the Park grew from meager beginnings to now attracting more than 100 national artisans.
In conjunction with the Hot Air Balloon Rodeo, Art in the Park is a weekend-long festival that features more than 130 artisans. The handmade crafts include items made from metal, wood, leather, clay, fiber and glass. There also is jewelry, fine art, photography and sculpture.
"We are really proud of this festival because we have put a lot of effort into getting a colorful selection of artisans from all over the country," said Jennifer Jones, director of events and marketing for the Steamboat Springs Arts Council. "These artists will provide visitors the unique opportunity to ask questions about techniques, learn the sources of artist inspirations, and purchase fine-crafted art at affordable prices."
Art in the Park began 33 years ago in Little Toots Park, where only a few artists would display their wares on blankets. West Lincoln Park now hosts the event that attracts more than 10,000 locals and tourists.
The festival also includes a large selection of food, live music, and children's dance performances and activities.
The festival is July 7 and 8, and admission is free. It will be open from 9 a.m. to 5 p.m. Saturday and from 9 a.m. to 4 p.m. Sunday.
"I think the festival's scope is amazing," Jones said, "because it started out so small."