An area guide to biking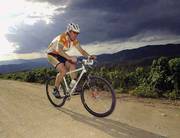 Steamboat Springs — Continental Divide: Gives bikers the option of spending the day or a few days on the trail. Get a break from the crowds at the more popular rides, but remember that bikes are not allowed in wilderness areas.
Dinosaur Trail: 67 miles one way of trails that are rated easy to intermediate and advanced. Trails include paved sections, improved and unimproved dirt road sections, rough two-track and some 4x4 trails. Links Dinosaur National Monument with Dinosaur and Rangely.
Elkhead Reservoir: Single track and country roads make up this 10-mile loop for the intermediate to advanced rider. Share with horses and hikers in the summer, so remember trail etiquette. Just northeast of Craig.
Cedar Mountain: Northwest of Craig, an intermediate 3.5-mile loop of single track and dirt roads. The trails continue from there.
In North Routt there are various hotspots to check out, including Coulton Creek and Nipple Peak, and South Routt boasts trails such as Rock Creek and Muddy Slide. Kremmling has a bike map for visitors. There are hundreds of miles of backcountry roads and trails throughout the area, including Brown's Park, Sandwash Basin, Cold Spring Mountain, Irish Canyon and more.
For those interested in hopping on their own mountain bike or renting one from the various outdoor shops in the area, here are some popular rides:
Hot Springs Loop: Some rocky and steep sections, but mostly a fast-paced singletrack through a pretty area. Connects to the Mad Creek and Red Dirt trails, making for various rides. Start at the Strawberry Park Hot Springs off Routt County Road 36.
Howelsen Hill/Emerald Mountain: Downtown, loads of trails to connect with, good singletrack , as well as the Quarry Trail (Blackmer Drive)
Spring Creek Trail: Great for beginners or those who want to hammer up a mellow 5-mile hill. Most of the trail is in the shade, and most is smooth singletrack. Go up and down the trail, which starts near Steamboat Springs High School, or connect to Routt County Road 38.
Steamboat Ski Area: Great uphill workout for a choice of sweet downhill rides, or take the gondola up and enjoy the downhill by itself. Riding up Zig Zag and down Valley View and Pete's Wicked Trail provide fantastic views.