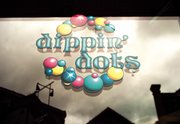 Steamboat Springs — It's a thought many probably have had while noticing all the construction downtown: "Man, a taco stand or hot dog cart on Lincoln Avenue would rake in the cash!"
But short-term food vendors are unlikely in downtown Steamboat Springs this summer. Such a vendor would not only have to clear the city's approval process, which includes meetings with the Steamboat Springs Planning Commission and Steamboat Springs City Council, but also would have to pay a $1,500 fee and overcome a recommendation from Main Street Steamboat Springs that such vendors not be allowed downtown.
"I accommodate all the permitting for vendors, peddlers and transient sellers," City Clerk Julie Jordan said Wednesday. "Right now, it looks like we're making it impossible."
Steve Ivancie, president pro-tem of the Steamboat Springs City Council, raised the issue Tuesday night and asked city staff to explore giving vendors an easier path to approval.
"I don't think the development process is the way to do this," Ivancie said. "I would like to see a specialized license."
The City Council agreed to gather more information about the potential for vendors, and reaction from local businesses, in coming weeks.
Tracy Barnett, program manager for Main Street Steamboat Springs, said food vendors could add vitality downtown.
"I know there are some catering wagons that want to come downtown, and I think that's probably a good idea," Barnett said. "I know the construction guys don't have much time to eat lunch or snacks : I think any vibrancy we can have on the street, that makes it look like something other than construction is happening, is a good idea."
But Barnett polled the Main Street Board of Directors and the group's Economic Restructuring Committee and found a different view.
"They both want to leave the recommendation in place to not allow temporary vendors downtown," Barnett said.
In 2004, the Main Street committee made a formal recommendation to city planning staff that vendors not be allowed in the downtown area, Jordan said.
Drahota Construction's Jim Hinton, project superintendent for the Alpenglow development at Sixth Street and Lincoln Avenue, said his crews have 30 minutes for lunch. He said about half his crew eats lunch on-site while the other half goes to a downtown restaurant. Hinton expects 40 to 50 people working at Alpenglow at the height of the project this summer. Construction projects are also under way on at least four other sites downtown.
"I think (short-term vendors) would be a great idea, absolutely," Hinton said. "I think it's something that can add to the general environment of Main Street."
Bill Doyne, manager of BeauJo's Mountain Bistro on Seventh Street and Lincoln Avenue, said he isn't sure what impact short-term vendors might have.
"We're looking forward to the summer and to some increased volume due to the construction," Doyne said. "We'll wait and watch with great interest to see what the outcome of this new situation is, with street vendor licenses."
Jordan said allowing vendors in time for this summer would require changes to city codes.
"If we do think it's something that we want, we really need to alter the code to make it a less-strenuous process, requiring not as much money and not nearly as much time," Jordan said.
But Jordan said the city is more apt to approve permits for sellers in residential neighborhoods - which Jordan said could soon be hearing the familiar music of an ice cream truck.
"I do believe there's going to be an ice cream truck in residential areas this summer," Jordan said.
Three weeks ago, Jordan and the city's code enforcement staff had to ask a man to stop selling metal etchings near Third Street and Lincoln Avenue.
"I had to ask him to leave, because our community just doesn't allow for that," Jordan said. "But that doesn't mean we can't change."