Scott Stanford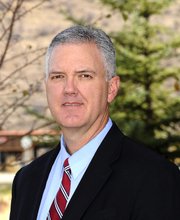 Scott Stanford is general manager of the Steamboat Pilot & Today. Call him at 970-871-4202 or email
sstanford@SteamboatToday.com
Steamboat Springs — My 64-year-old mother starts chemotherapy today to treat sarcoma, a cancer of the connective tissue that started in her thigh but has spread to her lungs and abdomen.
Sarcoma is rather rare, and because it has spread so quickly, Mom has seen several doctors in recent weeks. Turns out, the nodules in her lungs are the biggest concerns, so they get attacked first.
My parents were divorced when I was 8. They didn't see eye to eye on a lot of things, but they shared a toughness that I admire. My dad died of lung cancer last fall after fighting through more than a dozen rounds of chemotherapy and radiation to extend his life some 10 months beyond his initial diagnosis.
I have no doubts about Mom's ability to wage a similar battle. But like Dad, she is fighting to prolong her life, not for recovery. Her oncologist says he thinks he can get her a year. He is shooting for two.
There are more than 70 types of sarcomas. A Google search returns 7 million hits. Narrowing the search to "liposarcoma" - the sarcoma my mother has - reduces the returns to just 389,000 pages. I could spend hours reading the information, but I don't find that very helpful. Fifteen minutes of surfing, and the picture is clear. My sister, the nurse, does a better job of filling in the gaps for me. She lives in the same South Carolina town as my mother and works at the hospital where Mom is getting her chemotherapy.
I am, by nature, an optimist. Mom? Not so much. But with my sister's help, she seems pretty focused on what's in front of her today and less worried about what's in the long term. That's about the only approach there is to take, for Mom or for her children.
Sadly, I did not give cancer much thought for the first 40 years of my life. I had not been touched by the disease. In fact, I had this notion that medicine had advanced to the point where people usually beat cancer. You know - people get diagnosed, they treat the problem, the cancer goes into remission and they move on with their lives.
How foolishly naÃive.
Cancer kills more than half a million people each year in the United States, according to The National Cancer Institute. It claims more than 6,000 people per year in Colorado.
My dad smoked. For months, he ignored the lingering but persistent cough. Just a smoker's hack, he assumed. It wasn't until he broke his collarbone that he went to the doctor. Problem was the bone snapped because of a cancerous lesion that had formed there - the undetected lung cancer had metastasized to his bones.
It was too late to do much but try to give him more time. He was 65 when he died.
Mom's warning signs were much more subtle. A noticeable lump developed on her thigh. After a few weeks, it began to grow rapidly. Our initial thought was that she would face a pretty intense surgery to remove the sarcoma from her thigh, but that long term she would be OK.
Once doctors discovered that the sarcoma had spread to her lungs, the cancer in her thigh became something of an afterthought. There are too many nodules in her lungs to operate.
If you smoke, quit. If you haven't scheduled a physical recently, do it. If you think something isn't right, get it checked out. Don't ignore persistent coughs. Don't ignore lumps that you know shouldn't be there. Talk to your parents about their health.
With my thoughts and prayers on my mother, I made a donation Wednesday to the American Cancer Society in my father's name. I'm also going to make a few laps for my parents in this year's Relay for Life. It's Aug. 10 and 11 at Gardner Field.
If you'd like to give to the American Cancer Society, it's easy to do at americancancersociety.org. If you want more information about the Relay for Life, call 871-4770.
Scott Stanford's From the Editor column appears Thursdays in Steamboat Today. Visit his blog at steamboatpilot.com/stanford, call him at 871-4221 or e-mail editor@steamboatpilot.com