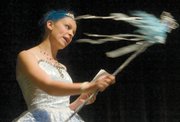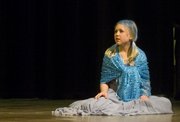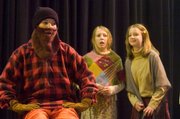 If you go
What: "Pinocchio"
When: Today and Friday at 7 p.m.
Where: Steamboat Springs Middle School Cafetorium
Admission: $6 adults, $4 students
Steamboat Springs — From the acting and set design to the running crew and the drawings in the program, the Steamboat Springs Middle School's performance of "Pinocchio" features a common thread.
Mainly, it's all student done.
"We just sit back and watch," director Rusty de Lucia said. "We just become the audience. That's what's most thrilling to me. I can let them go at it with total confidence."
After five weeks of two-hour practices every day after school, de Lucia and more than 40 students will put on "Pinocchio" today and Friday in the Steamboat Springs Middle School Cafetorium at 7 p.m.
"It's going to be good," said Ali Diehl, a seventh-grader who plays a child. "The acting is good. Everybody knows what they're supposed to do, and everybody knows their lines."
Although de Lucia said the process has been somewhat hectic with such a short time to rehearse, she said it makes the play that much better.
"They've truly become a company," she said. "The children are so into character. It's amazing how true the characters are."
Although "Pinocchio" was done by Disney, de Lucia decided to do the original version by Carlo Collodi, an 1880s Italian writer.
Collodi wrote the play as an Italian allegory, shedding light on the fledging efforts of Italy to form a democracy.
The older version, de Lucia said, makes the story more convincing and truly gets at the original theme of the play - the importance of honesty and believing what's in the heart.
"I think I like this version because it's more believable," said Camille Sachs, an eighth-grader who plays Pinocchio. "In this play people hate me because I'm bad. It has more real life situations."
While the play may be more life-like, it still has that fairy tale flair - from puppet to boy with a little help from the magical Blue Fairy.
"It's for anybody who has a childlike heart," de Lucia said. "It's for whoever still loves the magic. For whoever really likes to let their imagination go."