Hayden's first American Legion baseball team opens up play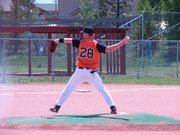 Steamboat Springs — There were times it seemed like Hayden wouldn't have a baseball team for players older than 13.
Sure, there were Little League teams, but once a player hit the magic age of 14, options were to play American Legion ball in Steamboat or Craig.
On Saturday, however, all of that changed.
For the first time, Hayden fielded an American Legion B baseball team. The team, consisting of 14 players between the ages of 15 and 17, split a doubleheader with Eagle Valley.
"It's been a long process," manager Wayne Deluca said. "They presented the colors, and the emotions were pretty high. I know the players were awfully excited. There were legion programs surrounding us, but at their age, some of them get jobs and some of them just want to play under their own colors."
Getting a Legion team in Hayden has been a nine-month process.
Last year, Deluca started a recreational league for 13- to 15-year-olds. With only seven players, Deluca called around and was able to set up about 10 games. By the end of the year, the team had 14 members ages 13 to 17.
Seeing the interest pique toward the end of the season, Deluca said the decision was made to start a Legion team.
With enough Western Slope teams to play, Deluca set up a full 28-game schedule for this summer.
"It was cool to get these guys a ball team that plays at home," Deluca said. "Now with the way they're playing, it's a bonus."
Although the Hayden team is the smallest and most inexperienced team in the league - most teams have been playing high school baseball since March - Deluca said he's expecting the team to experience success.
If Saturday was any indication, he's probably right.
Hayden beat Eagle Valley, 11-2, in the first game of Saturday's doubleheader, led by homeruns from Russell Waugh, Aaron Haskins and Jake Magee.
"The guys played fantastic. I was ecstatic," Deluca said. "There's some things we have to work on, but we're tickled with the start."
Although it was only one win, Deluca said he hopes it's the start of something bigger for baseball in the town of Hayden.
"We've seen the numbers go up in Little League because they see these guys play football and now they're playing baseball," Deluca said. "We're trying to keep the baseball program growing. We're looking at the future."