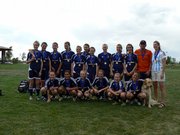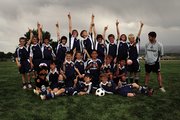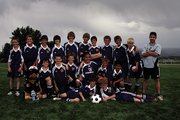 Steamboat Springs — It had been a long three years for the girls on Steamboat Springs' U-14 youth soccer team - they always returned home from the Grand Mesa Invitational without the top results they wanted.
But on Saturday and Sunday, the girls maximized their efforts in their final year of tournament eligibility. The U-14 squad outscored its opponents, 14-2, to take the top age division championship.
"It's a very solid core group of girls," coach Cathy Girard said. "We always tell them, 'Play with your hearts,' and that's exactly what they did."
They also played with some defense, shutting out the two teams in their pool, New Castle and Basalt, by scores of 5-0 and 2-0, respectively.
Girard credited the tremendous defensive efforts of fullbacks Shelby Struble and Jenna Peters as well as goalkeeper Liza Stout, who posted a third shutout in her team's championship game win against Montrose. The girls advanced to the final after a close semifinal victory against Grand Mesa.
Steamboat's boys U-12 team also secured a division championship that has been a long time coming.
"This is our fourth year going down to the tournament, and every year we've had to play up - this is our first year playing against teams mostly in our same age group," team parent and coach Mike Williams said.
After a 1-0 win against Montrose and a tie against Telluride, the Steamboat boys found themselves down, 2-0, in a match against Basalt. Steamboat came back with three unanswered goals, the final one a game-winner by John Vande Velde. Steamboat's U-12 team wrapped up its age-division championship with a final victory against Steamboat's U-11 team, which was swimming in the waters its victors knew well - having to play in the older division.
Williams noted the strong play of the U-11 boys. Hobey Early, who coaches the U-12 boys, called the tournament a "good opening weekend" considering the team had not played in a game since its regular fall season and now faces a tough summer tournament schedule against stiffer competition along the Front Range.
The boys' summer season, like the other Steamboat Springs Youth Soccer Association teams playing at the tournament, will be highlighted by the 23rd annual Steamboat Mountain Soccer Tournament from July 13 to 15.
- To reach Dave Shively, call 871-4253
or e-mail dshively@steamboatpilot.com