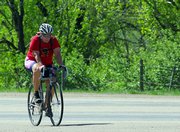 Steamboat Springs — Getting ready for the ride is the easy part. Making a difference is the important part.
For more than a decade, Lee Cox has made being a part of the MS 150 Bike Tour a summer tradition. She says it's no problem coming up with the minimum donation of $300, so the past several years she has set her goal on raising more money and encouraging other cyclists in Steamboat Springs to take part in the Great-West Life MS 150 Bike Tour, which raises money to help people with multiple sclerosis.
"I just started doing it because I loved to bike and it seemed like a good cause," Cox said. "But over the years I've made a lot of friends through the tour, and some of them have MS."
This year, the two-day bike tour is designed as a loop, starting and ending at the new Broomfield Event Center with an overnight stay in Fort Collins.
The charity ride includes catered meals, frequent rest stops, bike mechanics, medical staff and entertainment.
The ride accommodates cyclists of all abilities, with shorter routes for more novice cyclists. And century options promise to make the ride more interesting for seasoned riders.
Cox said she has been taking part in the ride for at least 11 years, and she said every year has been a rewarding experience full of special moments. She has raised at least $3,000 a year for the past three years.
"Three thousand, that's a pretty good goal," Cox said.
Cox said Steamboat is a very giving community, and she's always found people who will contribute to the cause.
This year Cox wants to encourage more locals to get on their bikes and take part in the ride, which is scheduled for July 7 and 8.
Last year, Jim Harkness, Libby Foster and Deb Burney joined Cox on Team Boat. Cox once again will captain Team Boat.
Riders interested in being a part of Team Boat can register under that name with the MS 150 Bike Tour or can e-mail Cox at lcox@springsips.com.