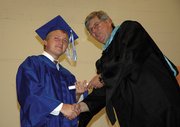 Steamboat Springs — With just nine graduates, the Christian Heritage School took the time Tuesday night to honor each senior, adding a personal touch through prayers, a multimedia presentation and speeches.
"Each of you is a bright star," said keynote speaker Rick Dieter, a youth leader familiar with each Christian Heritage graduate. "Now is your time to shine."
The mood was light-hearted on a day normally full of tears. Families, friends and graduates bid goodbye to high school and looked forward to college, the armed services or the beach.
But the overriding theme Tuesday was the role God must play in the lives of the members of Class of 2007. Dieter asked the graduates to be strong and courageous and remain focused as individuals but also as Christians.
"As you do that, He promises you will be successful and prosperous in everything you do," Dieter added.
Tuesday's ceremonies began with Tyler Houston reciting the class-selected verse from Joshua 1:9, "Have I not commanded you? Be strong and courageous. Do not be terrified; do not be discouraged, for the Lord your God will be with you wherever you go."
Three of the graduates - Marc Hall, Rachel Van Baak and Houston - started at Christian Heritage as kindergartners, and they were honored for their commitment and service to the school through the years.
Lewis Cutter delivered the salutatorian address, reminding his classmates and letting the audience in on the pranks the Class of 2007 loved to play and how they have left their impression on the school.
"It's hard to believe we are actually leaving," Cutter said. "Some of us have been here since kindergarten. Some of us came two years go. We all became friends and rocked this school Class of 2007 style."
The graduates are Houston, Hall, Van Baak, Cutter, Kevin King, Alex Jordan, Nicole Bowes, Nicolas DeVos and Garrett Brew.
Mary Ann Cutter, a teacher at Christian Heritage and Lewis' Cutter's mother, proudly announced the graduates have secured $88,000 in scholarship money, but that total doesn't include financial packages from the armed services and scholarship offers still on the table, she said.
The seniors gifted $500 to the school. The night also was a chance to honor the late Brian Houston, Tyler Houston's father and a beloved Christian Heritage teacher, who was tragically killed in a motorcycle accident last year.
Tyler Houston received the $500 scholarship named for his father, and the Houston family was honored with the Ty Lockhart Award.
The Look family was honored Tuesday for their faith and perseverance with the receiving of the Jonathan Olinger Award. The Look's youngest daughter Molly, 3, wandered outside in January in subzero temperatures and suffered frostbite.
Leading up to the graduation, Cutter and valedictorian Kevin King talked about the special place Christian Heritage held in their hearts and the hearts of their classmates. It is a small school but a place they looked forward to going to.
King challenged his classmates Tuesday during his valedictorian address.
"View success as the impact one has on others' lives," King said. "Settle for nothing. Pursue your dreams will all your heart. If we walk side-by-side with God, there is no limit to what we can achieve."