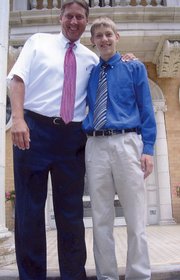 Steamboat Springs — Plain and simple, Steamboat Springs High School sophomore Charlie Stoddard is a mathematics wiz.
Stoddard, who is enrolled in Ordinary Differential Equations, an online course through Stanford University, has spent the past year taking state, national and international math tests to challenge himself and, well, because he likes math.
On Monday, the Steamboat Springs School Board recognized Stoddard during the Spotlight on Success portion of its meeting, congratulating him on his achievements.
On May 15, Stoddard was recognized by the state during the 12th annual Colorado Mathematics Awards.
Stoddard scored a perfect score on the American Mathematics Contest 10. He was the top finisher in the state. In fact, only three out of 25,000 students who took the AMC 10 scored a perfect score.
"There are so many areas they can cover," Stoddard said. "There's a lot of geometry, trigonometry and graphing theory."
From the AMC 10 test, Stoddard participated in the American Invitational Mathematics Examination, a three-hour, 15-question examination.
Stoddard scored so well, particularly among his peers in Colorado, that he was allowed to move on to the USA Math Olympiad on April 24 and 25. He took the nine-hour, six-question essay exam at Fairview High School in Boulder. The test was administered to the top 500 students participating in the AMC 10 and the AIME across the country.
The top six nationally in the USA Math Olympiad make up the team for the International Mathematical Olympiad held July in Hanoi, Vietnam. Out of a possible score of 42, Stoddard scored 10. The top score was 32, so Stoddard isn't heading to Vietnam, but he did improve his score from his freshmen year.
On Wednesday, School Board President Denise Connelly asked Stoddard what was the most difficult part of this process, and Stoddard said without hesitation the most recent test he took at Fairview.
"It's all calculus or below, but it's all creative thinking," Stoddard said. "It's a breadth of knowledge of high school math."
Stoddard, who was taking high school math courses while still in middle school, believed he was in the top 50 percent in the country in terms of math students based on recent test results. He has visions of attending Stanford, a college he already is enrolled in through online classes.
Steamboat Springs High School Principal Mike Knezevich and district Gifted and Talented teacher Lisa Ruff accompanied Stoddard to the May 15 mathematics awards at the Grant-Humphreys Mansion in Denver.
"I was honored Charlie asked me to go," Knezevich said.
Both Ruff and Knezevich complimented Stoddard on his academic aptitude, and both said they were proud that Stoddard also excels in music and athletics.
"He's so well-rounded," Ruff said.
This summer, Stoddard again will be part of Colorado's American Regions Mathematics League top team. Last year, the Colorado team of which Stoddard was a member won the B division. This year, the team will compete in the elite A division.
The team is made up of the top 15 math students in Colorado. The competition is in Las Vegas.
- To reach Melinda Mawdsley call 871-4208 or e-mail mmawdsley@steamboatpilot.com