Experts prepare for new economy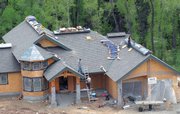 Steamboat Springs — When it comes to growth, Colorado demographics expert Jim Westkott says resort communities like Steamboat Springs have seen only the tip of the iceberg.
"Because of the aging baby boomers and because of their wealth, the potential for growth at resort destinations is even greater than what would normally be the case," said Westkott, senior demographer at the Colorado State Demography Office.
For 24 years, Westkott has worked for the state agency, which collects data to forecast demand for facilities and services. He served as the Demography Office's director for 12 of those years.
Westkott is the featured speaker at a luncheon entitled "The Dynamics of Growth in Resort Communities: Understanding the complexity of our new economy." The luncheon is from 11:30 a.m. to 1:30 p.m. Thursday at Rex's American Grill and Bar. The cost is $15 and includes lunch.
"We're trying to bring people in on the economics that are impacting us," said Noreen Moore, the business resource director for the Routt County Economic Development Cooperative, one of the luncheon's sponsors.
The local economy is becoming increasing more complex, Moore said, because of factors such as energy operations in the West, lifestyle choices and the demand for construction, workers and workforce housing.
Communities need to be educated about such economic and demographic changes in order to plan appropriately.
"There has been a transition going on from what has been called destination tourism to residential economy drivers," Westkott said.
Residential economy drivers include second-home construction, retirees and telecommuters, he said.
Westkott said the goal for Thursday's luncheon is to get people to realize how strong and complicated the growth is and that communities need to prepare for it.
Baby boomers start turning 65 years old in 2010, and growth is expected to be at its strongest after that, Westkott said.
"Growth in the second-home market is expected to continue," he said.
Thursday's luncheon is a second in a series of meetings designed to educate the community about the new economy, Moore said.
Jonathan Schechter spoke to a packed room of about 200 people in December. Schechter is the executive director of the Charture Institute in Jackson, Wyo. The nonprofit organization compiles information on rapidly growing and popular resort communities to aid officials in making decisions.