New location found for seniors
High Point facility proposed for Council on Aging
Past Event
Thursday, November 2, 2006, 6:30 p.m. to 9 p.m.
Anchor Way Baptist Church, 40650 Anchor Way, Steamboat II neighborhood, Steamboat, CO
All ages / Free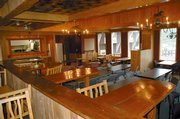 Steamboat Springs — A temporary home has likely been found for the Routt County Council on Aging.
Deputy City Manager Wendy DuBord said Sunday that the city of Steamboat Springs has sent a draft contract to the corporate office of Florida-based Celebrity Resorts, which along with the local group Hilltop, LLC, operates the Celebrity Resorts hotel on High Point Drive, near Hilltop Parkway. The hotel has a restaurant and large commercial kitchen that are currently not in use, DuBord said, clearing the way for a proposed 10-month lease of the facility that could start June 1 and cost the city a total of $40,000, including initial clean-up and improvement costs.
The Steamboat Springs City Council will hear a resolution Tuesday that would allow the city to lease the site with a supplemental budget appropriation.
Approval of the resolution would mean that the Routt County Council on Aging, which provided more than 10,000 meals to 328 Routt County senior citizens in 2006, will be able to continue its services and meals despite upcoming demolition of its current home, the Steamboat Springs Community Center west of downtown Steamboat.
That community center will be torn down to make way for the voter-approved, $11.4 million expansion of Bud Werner Memorial Library. Construction of a new community center already is underway on a 2.3-acre site adjacent to the Stock Bridge Transit Center, slightly farther west on U.S. Highway 40.
Shelley Orrell, program director for the Council on Aging, had for months expressed fears that the lengthy lack of a facility - in the interim between the two community centers - would shut down the council's meals and programs.
Sunday, Orrell was finally able to express relief.
"It was the most workable option available to us. It's not perfect, but I think it will be a very good interim location," she said of Celebrity Resorts. "It has a wonderful kitchen and dining room, and we're excited about the central location. This will definitely be a win-win for everybody."
Orrell said the Council on Aging plans to end its services at the current community center June 1, and then re-open at Celebrity Resorts on June 7.
DuBord said the current community center belongs to the city until July 1. An agreement with the East Routt Library District, she added, will allow the city to host its annual July 4 Pancake Breakfast at the community center before fully leaving the site.
DuBord said library contractors and officials have told her they will tentatively begin construction of the library expansion, and demolition of the current community center, July 9.
"We're really excited that things are moving forward," DuBord said.
She added that some cleaning, repairs, and accessibility improvements are needed at the Celebrity Resorts site, which the city is proposing to lease for $3,500 per month, from June 1 through March 31, 2008.
Such an agreement would end considerations of other sites for the Council on Aging, such as the clubhouse at Haymaker Golf Course and the Christian Heritage School.
"Our transportation issue would have been a problem," Orrell said about those sites. "We truly are excited about being able to go to Hilltop."
Also Tuesday night, the City Council will continue its discussion of proposed revisions to the city's inclusionary zoning ordinance, which regulates affordable housing policies in Steamboat. The City Council tabled action on the revisions at a meeting in April, and at two meetings earlier this month.