Chat with Sandy Evans Hall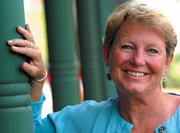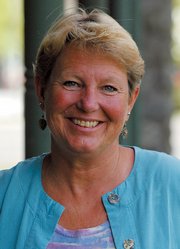 Steamboat Springs — Sandy Evans Hall, the executive vice president of the Steamboat Springs Chamber Resort Association, sat down for a chat Friday with steamboatpilot.com. Below is a transcript of that chat.
Q: The Chamber Resort Association has worked with Triple Crown for years to keep the sports organization bringing its summer tournaments to the Yampa Valley. How important is the proposed regional sports complex in Hayden to the future of Triple Crown?
Evans Hall: For Triple Crown Sports to continue to have events in the Yampa Valley, they have said they need quality fields. This allows them to compete in the sports tournament world against other event producers such as themselves. We have upgraded our softball fields at Howelsen Hill, and the eight fields in Craig are in good shape, but those aren't enough to provide adequate capacity for the 125 teams that come for the World Series. The Sports Complex would be critical to keep the World Series events.
Q: Funding the sports complex will be the challenge. How would you answer critics who say Steamboat Springs should not contribute tax dollars to help build a sports complex in Hayden?
EH: As the recent economic impact study conducted by Corona Research shows, the primary beneficiary of tournament business is Steamboat Springs. That is where the majority of the lodging is. People tend to eat at least breakfast and often dinner where they sleep, so the majority of the dining revenue also is in Steamboat Springs. The Sports Complex will benefit the entire NW Colorado region and over time may have greater benefits for other municipalities, so the funding of the complex should be shared by all participants as well as Steamboat Springs.
Q: This is the chamber's 100th anniversary. What special events or activities are planned this year to celebrate the occasion?
EH: We have some very exciting things in store this year! Our Centennial gift to the community: "The Chamber Legacy - Past, Present and Future" will be a life-size bronze statue featuring three children playing, each one wearing something to represent the 100 years of industry - ranching, mining and skiing. We used children to represent the future, the articles of clothing to represent the past and present. The artwork is being sculpted by local artist Sandy Phillps Graves and will go on the courthouse lawn on the Fifth St. corner. We will be raising funds from businesses and grants to pay for this gift and will maintain it into perpetuity. Additionally, we have started our Sustainable Business Certification program with the theme of "100 More Years." Our Past Presidents Club met today for lunch, and we are developing some great ideas for our annual meeting, which should be quite an event in October, so stay tuned!
Q: Things have changed a lot since I got here in 2001. The economy is much stronger, sales tax revenues are on a record run and the community has a funding mechanism in place for airline flight guarantees. Have these changes changed the focus for the chamber?
EH: I wouldn't say that it's changed the focus, just allowed us to check a few things off of our TO DO list! We established a strategic plan in 2003, which identified several key issues that needed to be addressed. On that list was the dedicated funding source for the airline program, which we accomplished with the Local Marketing District. Also on the list was the establishment of the URA at the mountain, the expansion of the Yampa Valley Regional Airport and adding some events to diversify our summer business. I'm proud to say that all of these have been accomplished.
Q: How concerned are you about the effects of downtown construction on summer tourism? What plans are there, if any, to try to mitigate those concerns?
EH: I don't think the construction throughout town will keep people from coming. However, it will be very important that we try to make their stays enjoyable and utilize the opportunity to encourage them to return and see the end results! Some of Main Street's plans to generate some fun events around the construction will be helpful. The various parties also are communicating constantly to work around events, maintain traffic flow and keep everyone informed. This will help businesses stay open and visitors to find their way around. I have confidence that our friendly nature and our ability to go above and beyond the call of duty to make our visitors feel welcome this summer will reap many benefits for the future.
Q: One of the big concerns for businesses this year is a lack of skilled labor and housing for those workers. How can the chamber help businesses address that issue?
EH: That is truly the biggest concern facing our businesses. Our Economic Development Council is putting on a series of workforce forums at Rex's Bar & Grill. In April, we addressed the construction boom, in May, it was workforce housing. In June, we'll talk about how to retain your current workforce - looking creatively at benefits, wages and workplace. July is when we will look at recruitment to include foreign as well as domestic recruitment. Are there pockets of the country that are experiencing high unemployment rates? Can we pool our resources and do some joint recruitment? Then in August, we will explore training, looking at promoting and growing from within as a strategy. In the fall, we will take a look at specific action items that we can collaborate on to insure an adequate workforce for the winter.
Q: What are your thoughts on Intrawest's purchase of the Steamboat Ski Area? What feedback have you heard from chamber members since the deal closed?
EH: The feedback I've heard has been very positive. I think we are all looking forward to some capital infusion to improve the mountain experience. With the plans to re-grade Headwall and install a six-pack at the base, it appears that the infusion has begun and that is creating excitement. I also have to say that I'm glad that there are not any major changes in management, as we have had an excellent working relationship with the current management. From Chris Diamond to all the staff we work with, they truly believe in our community and promote collaborative partnerships wherever possible. From my discussions with my peers in other resort communities, I know that we are blessed.