Steamboat track and field athletes fall shy of podium at state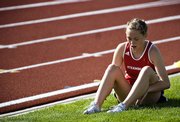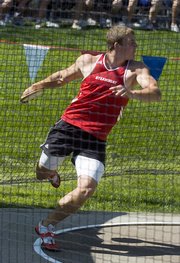 Lakewood — The practice throws were a cinch. Steamboat Springs discus thrower Westin Cofer was hurling his best distances of the year, pushing the 160-foot mark and hoping to break a new school record.
But when it was time for his three official tosses in the second flight Friday morning at the Class 4A State Track and Field Championships, the palpable pressure of competition instantly leveled the entire field of competitors.
The two top-seeded throwers, who had qualified distances more than 160, couldn't even crack 150. Favored Broomfield thrower Niklas Zissimos practically took out the protective barrier with three consecutive scratches that violently clanged off its aluminum arm.
Cofer scratched on his first toss, putting him behind the eight ball with the strategy he had reasoned.
"It hurts not getting that first one in," Cofer said. "Because then you have to slow down the rotation to get the second one in, and then you have to really throw hard on the third - it just didn't pay off for me."
Cofer's third toss had the distance to qualify for the event finals, but landed about an inch wide of the landing zone. The senior's best distance, 133-2, was not enough to put him in the finals and earned him a 15th-place finish.
Cofer was not the only Sailor who had to handle his nerves on the biggest scholastic track and field stage in the state.
Jake Stanford, a junior long jumper, fell into a similar predicament by scratching on the first of his three jumps.
"After qualifying at regionals, I got excited for the meet and was working on my steps all week," said Stanford, whose top jump, 18-8, landed him in 18th. "My run-throughs were perfect and I was stoked, but then with the first scratch I was disappointed - it wasn't my best, but it's all about the experience."
For sprinter Tyler Hutson, the first trip to the state meet was not only a learning opportunity - it was the runner's first-ever blind start from an outer, ninth lane - but also an experience he knows will help fire his drive to return next year.
"I've got one more year, and I know a lot of these guys are seniors, so it makes me want to try harder," an exhausted Hutson said after finishing the preliminary 400-meter dash in 51.47 seconds.
Although the finish landed Hutson in 16th overall, Steamboat coach Andy Reust was quick to point out Hutson's accomplishment as the Western Slope's top regional finisher and with an improved time from his original seed.
Triple jumper Lauren Marias also improved from her original seeding, finishing in a respectable 12th place with a 32-11 jump, three places and just more than a foot shy of a top-nine finish that earned competitors medals and team points.
Steamboat's two distance runners had some tough competition in their respective events. Brittany Long had a stiff 3,200-meter assignment in a giant single heat of 29 runners. Long pulled out of the race early, on her fifth lap, with unexpected breathing difficulties.
Senior Matt Hill had an equally tough field of 19 competitors in the 800-meter finals, headlined by Class 4A record holder Bobby Potrykus from Conifer, who defended his state title with a 1:53.01 victory time.
"I'm not used to a big crowd going that fast - there was a lot of jostling," said Hill, who finished 17th in 2:03.31. "But it was a good way to get sharp for tomorrow."
Hill returns to the track today as the seventh of 24 athletes ranked in the 1,600-meter, his best event and Steamboat's final hope to score an athlete in the top nine.
- To reach Dave Shively, call 871-4253
or e-mail dshively@steamboatpilot.com