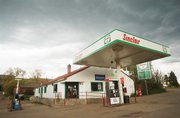 Want to get away?
Nine campsites at Stagecoach State Park were available for Memorial Day weekend as of Friday afternoon. Prices range from $8 to $18 a night, depending on amenities. To reserve a site at Stagecoach or any Colorado State Park, call (800) 678-2267 or visit www.parks.state.c.... For general information about the Stagecoach park, campsites and marina, call 736-2436.
Oak Creek — An empty gas tank in Oak Creek means South Routt motorists and convenience store shoppers are out of luck.
The Oak Creek Sinclair unexpectedly closed this week, leaving the South Routt town and Stagecoach without a local gas station, just days before Memorial Day tourists and campers begin rolling into the area with trailers, RVs and boats. The nearest gas station to Oak Creek is the Yampa Conoco, about 10 miles south.
"At least temporarily, we're closed," said Steamboat Springs resident Jon Peddie, owner of the Oak Creek Sinclair.
Peddie said Friday that despite the lack of competition in Oak Creek, the gas station wasn't doing enough business to remain open.
"Basically, it is very difficult for a small gas station with smaller (sale) volumes to be competitive with Steamboat," he said. "A lot of people who live in Oak Creek work in Steamboat, so they get gas in Steamboat. Without the support of the local market, it's real difficult to survive."
Peddie also owns a Sinclair station in Steamboat Springs, on U.S. Highway 40 at Hilltop Parkway. The Sinclair on Mount Werner Road is corporate-owned, a manager at that station said Friday.
Peddie said prices at his two gas stations are "pretty much the same," but acknowledged that gas is slightly cheaper in Steamboat.
"We don't blame anybody for trying to buy gas at a location where it costs a little less," he said. "But South Routt really needs to support South Routt businesses."
Stagecoach resident Wayne Flint, a concrete worker having lunch at Oak Creek's Black Mountain Tavern, said he won't miss the Oak Creek Sinclair.
"I never stopped there anyway," Flint said. "The diesel there was more per gallon than anywhere else."
Peddie said rising gas prices - which are about $3.30 for a gallon of unleaded at local stations, and have hit record-high nationwide averages in the past week - were a factor in shutting off the pumps. The station's convenience store, managed by Oak Creek resident Norm Hoskinson, also is closed.
"When the margins in gas are relatively small as they are, the costs and fees become more than your profit. It's a really difficult time in the gasoline industry," Peddie said. "As painful as it is for the consumer, it's certainly not fun for gasoline stores either, when gas prices are this high."
Hoskinson and Oak Creek Town Board member Stephen "Spike" Beven, an employee at the Oak Creek Sinclair, could not be reached Friday.
Oak Creek Deputy Town Clerk Vivian Johnson said the closing - which she first heard about Wednesday - is "sad for the people of the town."
"We need our gas station," Johnson said. "Now we have to go somewhere else, and that makes it a little rough."
Finding gas could also be rough for holiday tourists and campers at Stagecoach Reservoir next weekend.
Colorado State Parks Senior Ranger Kathleen Fischer said 83 of the 92 campsites at Stagecoach State Park are booked for Memorial Day. That means more than 100 people, plus single-day visitors and boaters, will need to fuel up elsewhere before hitting the reservoir.
Park Manager Craig Preston said fuel sold at Stagecoach Marina is strictly for boats. He added he wasn't sure how much of a problem the lack of local gas for vehicles would be.
"I think it's going to be interesting," Preston said. "Hopefully people won't cut it too close."
On Friday afternoon at the reservoir, Debbie Smith and Maureen Quandt of Denver said they visit Stagecoach every summer. Last year, they got lost after taking a wrong turn in South Routt, and just made it to the Oak Creek Sinclair in time to fill up their tank.
"I'm not sure what we would have done if it had been closed last year," Smith said. "(The closing) will mean more pre-planning for people, that's for sure."
Peddie realizes the Oak Creek Sinclair is closing just before the busy summer season.
"Summertime volumes are typically higher. We are right now entering a time of year when you hopefully do make some money," he said. "We need to figure out how we can get it back open. We would love to re-open as soon as possible, and we're looking at ways to do that. But we need the support of South Routt."