Photo Gallery
Tattoo artist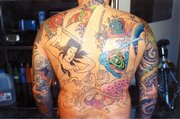 Tattoo artist Brad Cramer would rather get a tattoo than go to the dentist.
"At least you get something for your pain," Cramer said about tattooing. "The process helps remind you why you got it and how you got it."
In Cramer's 18 years as a tattoo artist, he has learned that although "tats" are not suited for everyone, people from every age group get them.
"Last year I tattooed three ladies in their 80s, and I have tattooed people in their 50s, 60s and 70s," he said. "But if everybody had them, they wouldn't be special."
Shows like "Miami Ink" are helping educate people about the advancement in the equipment and the inks, he said.
"You can now get photo-quality reproductions," Cramer said. "It's one of those trades where you can constantly get better at it. It can't get dull because you are always doing something different."
Cramer opened Truth Tattoo as a custom tattoo shop, and he specializes in Japanese and traditional style tattoo art.
"We pretty much draw all our own stuff, and we draw out big pieces that take multiple sessions," he said. "Some people like art to put on their walls, and some people buy art to put on themselves. Skin is the ultimate canvas for me."
Cramer's paintings decorate the walls of his shop, but once sold, he will never see them again. Cramer sees his tattoo art walking all over town.
"A lot of artists get a big head because they think they are doing something great for the world. All we are doing is providing a service," he said. "It takes a long time to build up a good reputation, but you can destroy it with one tattoo."
There are many misconceptions in the tattoo industry, and people with tattoos often are misunderstood, Cramer said.
"I've been treated differently, but sometimes I've been treated really good, even better than if I didn't have tattoos," Cramer said. "Others frown on it because they think you just got out of jail. Tattoos have been tarnished because of bikers and criminals."
Cramer has his own code of ethics when it comes to what he will or will not tattoo.
"I won't do racial or gang stuff, and I stay away from boyfriends' and girlfriends' names. It's a jinx," he said. "It seems like I cover them up two months afterwards. I try to look out for people's best interests."
Cramer knew he was hooked into the business after he got his first tattoo at age 15.
"When I got my first tattoo and went into the shop, it overtook me - the sounds, the smells and the people there seemed different," he said. "It was like going into a magic shop."
There is nothing mysterious about the quality of work Cramer produces.
"I like leaving my mark," he said. "When I pass away, my art will still be on somebody."