Past Event
Saturday, May 19, 2007, 7:30 a.m. to noon
Routt County Courthouse, 522 Lincoln Ave., Steamboat Springs
All ages / Free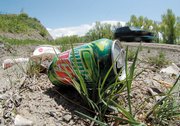 Steamboat Springs — You never know what you might find while cleaning up litter on the side of the highway.
On Saturday, whoever finds the strangest piece of trash will win a prize during the Yampa Valley Highway Clean Up Day event sponsored by the Routt County Board of Commissioners.
Teams of four or five will be assigned to work on particular sections of U.S. Highway 40, Colorado Highway 131 and Routt County Road 129 between 8:30 a.m. and noon.
"You can volunteer for half a day or one mile," said Heather Savalox, environmental health specialist for Routt County Environmental Health. "And if volunteers are under 18, we can find a different area, like Sundance Plaza, that is safe and not along a highway."
Coffee and breakfast will be served between 7:30 and 8:30 a.m. during morning registration on the Routt County Courthouse lawn. Volunteers need to wear sturdy shoes and long pants and take a water bottle, sunscreen and work gloves.
"We've got plenty of safety vests and trash bags," Savalox said.
She hopes this will become an annual event because litter is an ongoing problem.
"It gets worse every year, and when the snow melts, it looks twice as bad," she said. "We want to be able to prevent and treat it immediately. It's not going to go away, and we want to make an impact every year."
If someone wants to clean up their own road, that is also encouraged, but individuals should contact Routt County Environmental Health to let them know. Transportation will be provided Saturday, but teams can also carpool.
"It's great that people are thinking about climate change," Savalox said. "But we also need to be focusing on our own community and changing that first. We're going to get out there and clean it up."
- To reach Allison Plean, call 871-4204
or e-mail aplean@steamboatpilot.com