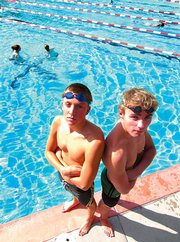 Steamboat Springs — Cole Worsley and Kyle Steitz knew one another last year, but they never imagined they'd be teamed up on a couple of relay teams competing for a state title.
Worsley, a Steamboat Springs sophomore, convinced Steitz, a junior, to come out for the swim team after Steitz finished the winter basketball season.
Since Steamboat Springs does not have a swim team, the pair teamed up with Moffat County's team. Now, they make up half of the Bulldogs' 200- and 400-meter freestyle relays that will be competing at the Class 4A state swimming championships today and Friday in Fort Collins. The Bulldogs' Tyler Kalsow and Trenton Taylor join Steitz and Worsley in the 200 and Kalsow and Andrew Aultman join them in the 400.
"The transition was smooth. We got along well and we really have matching personalities," Steitz said of joining the Moffat County team.
Worsley and Steitz had a short practice Tuesday at Old Town Hot Springs, tapering their workouts to a mere 1,500 to 2,000 meters in preparation for their trip today to begin preliminary heat competition against 42 participating teams.
"I really like the pool down there - it's fast," Worsley said while gobbling down an energy bar before practice.
The pair is coming off a successful run at last weekend's Western Regional Championships in Durango against what Worsley called some, "pretty intense," Class 5A opponents.
"There were some fast kids from Durango, but it was good for Cole, as it forced him to put 100 percent into his swims," Moffat coach Patti Worsley said.
Steitz was pleased to post his best times in the 200- and 500-meter freestyle individual races and thought the momentum would help him to competitive times in his two state relays in addition to the medley relay he will compete in.
Although Worsley qualified in four individual events and three relays, he will be limited to swimming in only four events - the 200- and 400-meter relays and the 50- and 100-meter freestyle individual races.
Ranked third in the 50 and in the top six in the 100, Worsley is coming off his fastest 50 time of the year (22.59 seconds) as wells as an impressive 100 time of 49.22 seconds.
- To reach Dave Shively, call 871-4253
or e-mail dshively@steamboatpilot.com