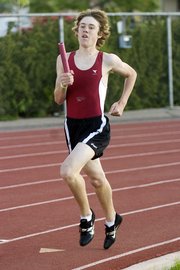 Steamboat Springs — There's a reason Soroco track and field coach David Bruner has Toni Lombardi as the starting leg on the three relays the Rams will run at the Class 2A State Track and Field Championships.
"She's consistently consistent," Bruner said.
Lombardi also is the only senior on a squad otherwise made up of sophomores.
One of those sophomores is Toni's younger sister, Tatum, who filled in for an injured Amanda Wilson on the 800-meter medley and now takes the baton from Toni on the second leg of the three relays.
"There's something really neat about handing off to her," Toni Lombardi said before the Rams' Tuesday practice at the Gardner Field track.
The Rams will run the 800 medley, the 800-meter relay and the 1600-meter relay at the state meet Friday and Saturday in Pueblo.
"I'm psyched for all of them, but I know we have a shot (to medal) in the four-by-two," Toni Lombardi said.
Bruner agreed. The Rams are seeded fourth in the preliminary heats of the event with a qualifying time of 1 minute, 51.9 seconds behind teams from McClave, Limon and Wray.
Bruner thinks if the 800-meter relay team, which also includes Traci Schlegel and Sarajane Rossi, peaks out at 1:50, it will be a good enough time to qualify for finals and potentially to land in the top three.
"Our main goal is to run our fastest times - and I'm confident we will," Bruner said. "We're tapering off now, and then it's just a matter of fine-tuning."
The girls 1600-meter relay and the 800 medley also are seeded fourth. The top eight teams advance from Friday's preliminary heats to the Saturday finals. In addition to the relays, Rossi qualified as the No. 4 seed in girls finals of the 800-meter run, Friday.
"We just have to fine tune and go for broke," Bruner said.
The Soroco boys 3200-meter relay team of David Roberts, Michael Schmidt, Peter Daley and Johnny DeCosta also will compete at state. The Rams are seeded eighth, and Bruner thinks the podium will be a matter of the team's desire and ability to run its best amid the 15 qualified teams.
"Schmidty and Roberts are both cutting time," Bruner said. "We'll be right in there for the top six."
- To reach Dave Shively, call 871-4253
or e-mail dshively@steamboatpilot.com