Scott Stanford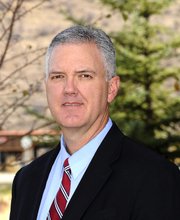 Scott Stanford is general manager of the Steamboat Pilot & Today. Call him at 970-871-4202 or email
sstanford@SteamboatToday.com
Steamboat Springs — I spent Wednesday cleaning up the Moonhill Schoolhouse in North Routt County with other managers at the Steamboat Pilot & Today. We scrubbed down the building and moved a pile of bark mulch from the schoolhouse to the new North Routt Community Preschool.
Our efforts were part of the United Way Day of Caring - a cool annual event that gets a lot accomplished on behalf of nonprofit organizations. Those who work with me know that I'm a big United Way kind of guy. I'm the one who's always yapping at the company party, pushing employees to give the United Way a little more of their weekly and monthly paychecks. I think giving is important, and the United Way is one of the best ways to give back to the community.
Enough with the shameless plug for the UW. Point is, I'm writing about this because the Day of Caring has cut into my column-writing time. When column writers find themselves in such a crunch, they inherently fall back on the faithful standby - the notes column. Sports columnist Blackie Sherrod has built a career at the Dallas Morning News using this method. He calls it scattershooting.
Here are my shots:
Recall letters
Now that an effort to recall John DeVincentis from the Steamboat Springs School Board is under way, we will not publish letters to the editor that advocate or oppose the recall. This is consistent with our policies during election cycles in which we refrained from publishing letters that advocated for or against specific candidates.
Allowing such letters can spiral into a series of back-and-forth letters by opposing campaigns.
Energy costs
Reporter Mike Lawrence and photographer Brian Ray went to Eastern Colorado on Wednesday for the groundbreaking of a new wind turbine plant. Gov. Bill Ritter was the featured speaker, and their report is in today's newspaper. But even more importantly, Brian and Mike used the trip to gather information for our major reporting project this summer on the energy industry. Our mission is to look at the economic and political reasons we remain so dependent on oil, gas and coal to fuel our cars and heat our homes. Brian and Mike will visit parts of Colorado, Wyoming and Nebraska to study new technology, the growth in renewables and the economic boom the traditional oil and gas industry is creating in some communities. Look for the series to publish during six weeks this summer, hopefully before gas hits $4 a gallon.
Graduation sections
Our church celebrated Youth Sunday last weekend. It's one of my favorite church services of the year - church members who are graduating from high school give brief speeches about their lives. I've been through six of these of these now, and I've cried every time. I can't imagine what it will be like when my girls give their talks.
Anyway, I mention this because our graduation sections will take over our education pages for the next three Sundays. We work to make sure we run a photo of every graduate of every local high school in the newspaper. Look for Hayden and Christian Heritage this weekend; Soroco graduates on May 27; and Steamboat Springs and Lowell Whiteman graduates on June 3. Parents - if you don't like your child's yearbook photo, call us and we'll get a new one for you.
I'm with Bill
Bill Gates offered his take last week on the future of newspapers. Speaking to a Microsoft online advertising conference, Gates essentially said the printed page is doomed. He predicts electronic reading will grow as devices get smaller and more portable, screens get sharper and power lasts longer. He noted that the electronic method allows for targeted advertising, interactivity and constant updating. It's hard to argue with Gates. Eventually, the costs and time constraints of printing a newspaper every day will outweigh benefits of the printed page. It's a question of when, not if.
The tools of technology
Speaking of technology, I argued with other members of my Editorial Board on Tuesday. Some members are impressed that elementary students in Steamboat Springs can do PowerPoint presentations. I'm not. Using PowerPoint is the 2007 equivalent of using posterboard and glue in 1977. The content of such a presentation should be the impressive part, but the fact that an 8-year-old can use the technology is as it should be. In fact, it's no more complicated than figuring out how to beat the computer on the highest level of Madden 2007, downloading songs to an iPod or changing the screensaver and ringtones on a cell phone. I'm glad our students are using the technological tools available to them, but let's not misinterpret that as a sign of superior education.
Scott Stanford's From the Editor column appears Thursdays in Steamboat Today. Visit his blog at steamboatpilot.com/stanford, call him at 871-4221 or e-mail editor@steamboatpilot.com