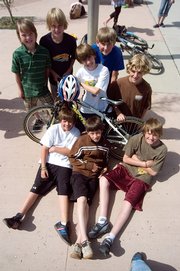 Steamboat Springs — The recent theft of an 11-year-old's bike serves as a reminder that not locking up could leave you bikeless.
Fortunately for Kaleb VanArsdale, Steamboat is a small community, and a group of his friends Saturday found a youth who was riding his bike, which was stolen from in front of his Steamboat home Thursday night.
"I was really surprised and excited," Kaleb said after learning his bike had been found.
There were bikes lying unlocked in front of many of the neighboring homes when the bike was stolen.
"It wasn't like we were doing anything different," said Kaleb's mom, Melissa VanArsdale.
Kaleb said he was "not happy" when he learned someone took his bike. The Scott Scale Jr. mountain bike was a recent $350 birthday gift from his parents.
Melissa VanArsdale made "stolen bike" posters and hung them around town. They had a picture of Kaleb posing with his bike during a recent biking trip to Fruita.
"Bad Karma if you keep it!" she typed on the posters. "We're not rich : we can't just buy another one!"
The poster caught the attention of some of Kaleb's friends - Jake Teuton, Nick Sear, Alex Elliott, Penn Lukens, Casey Williams, Devin Dummit and Brad Hoefer.
They spotted and confronted a youth near the BMX bike park at Howelsen Hill. They suspected the youth was riding Kaleb's bike.
Kaleb's friends interrogated the boy, and he became distracted long enough so Casey could lock the bike to a fence. They then called Kaleb's dad. Kaleb was camping.
When Kaleb's dad, Derek VanArsdale arrived, the kid who was seen riding the bike ran away.
Derek thanked Kaleb's friends and gave them $20, which they used to buy French fries.
"It's just amazing what they did," Derek VanArsdale said. "It was basically the sharp awareness of these kids. Chalk one up for small community."
On Tuesday Melissa VanArsdale said the family plans to report the incident to police.
Brock Webster, owner of Orange Peel Bicycle Service, said bike theft "is happening more and more for sure" as the town grows.
"We have a lot of stolen bikes," added Steamboat Springs Police Capt. Joel Rae. "It's like anywhere else. There are mountain bikes that are more expensive than people's cars."
He said 99.9 percent of the time, bikes that are stolen were not locked.
Numbers from recent years show bike thefts are actually on the decline in Steamboat, Rae said.
In 2005, there were 42 reported thefts. In 2006, there were 30. So far in 2007, there are two reported thefts.
Bikes are recovered between 10 and 15 percent of the time, Rae said.
The biggest thing people can do to prevent theft and increase the chances of recovery are to use a lock and register bike serial numbers with the police department.
The Steamboat Springs Police Department offers free bike registration.
"That is a key to recovery," Rae said.