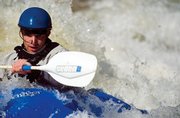 Steamboat Springs — Mark Cahur is concerned he won't have much free time this summer.
Although the current fire danger in the Routt National Forest is low, early season signs point to a ripe fire season.
"We are going to be busy," predicted Cahur, the U.S. Forest Service's fire management officer with the Medicine Bow/Routt National Forest.
Fires are far less likely to start in May and early June because plants are turning green, so their moisture content is high and the ground is either wet or still covered in snow. But Cahur is worried that fire season - late June to September - will be long and hot in Northwest Colorado.
Cahur said bears emerging from hibernation in March and the Yampa River nearing its peak more than two weeks ahead of schedule are indicators of what's ahead.
"The point is spring seems to be about a month early, so that could lead to a much longer fire season," Cahur said.
On Tuesday, the Yampa River was flowing at 2,030 cfs. The average flow for May 15 is 1,600 cfs.
Assuming the weather rem-ains warm and dry, the Yampa may reach its spring peak flow soon, perhaps in the next few days, which is cause for concern.
"It has consistently risen from May 8 to May 15 by almost half a foot a day," said Daren Man-giaracina, a fishing guide with Straightline Outdoor Sports. "It's pretty disheartening."
A period of cool weather coupled with snow on the passes and heavy rains in the valley would alleviate the pressure on the county's plants and help the Yampa, but if a change in weather doesn't arrive, Cahur and Mangiaracina are preparing for a summer much like 2002, which neither is particularly interested in repeating.
Five wildfires started in Routt County in 2002, including the Hinman and Burn Ridge fires, which burned an estimated 30,000 acres of National Forest in a matter of months in North Routt.
Fires also ignited in South Routt.
"Out of the five large fires, we probably put another 29 out that had just as much potential to get big," Cahur said.
The U.S. Forest Service will monitor the moisture-content in the trees as the summer progresses because that is a primary indicator of the fire danger, and Cahur said the Routt National Forest is primed for wildfires because of the fuel on the forest floor and the still-standing trees that are dead or dying from beetle infestation.
"The hair on the back of my neck gets raised on Gore Pass and in North Routt really because of the conditions of the standing timber associated with the beetle kill," Cahur said. "And those are some of our more high-value areas."
Cahur said he knows of no wildfires currently burning in Colorado.
Some Routt County residents will remember the summer of 2002 for the thick, smoky haze that hovered over the valley, but Mangiaracina will remember that summer for the hundreds of trout stacked atop each other gasping for air near the mouth of Fish Creek.
"We quit guiding it," he said. "We are not in the business of killing fish."
The signs point to a rough summer both in the forests and in the rivers of Northwest Colorado, but Cahur and Mang-iaracina aren't ready to panic.
It is mid-May, and if anything changes in Colorado, it's the weather.
"We really aren't into fire season yet, so you can't (say it will be like 2002) until we get into what we typically call fire season," Cahur said. "We could get rain, which could temper the whole season."
- To reach Melinda Mawdsley call 871-4208
or e-mail mmawdsley@steamboatpilot.com