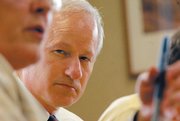 When I asked Colorado Secretary of State Mike Coffman if he wanted to talk about a recent scandal involving one of his staff members, I expected the conversation to last about five seconds.
"I'm not going to comment on that," I thought he would say.
Or perhaps the more diplomatic:
"That investigation is still pending, so I'm not able to comment."
But Coffman said neither. Instead, we had a substantive, frank conversation that lasted several minutes Saturday night at the Old Town Pub & Restaurant during the Lincoln Day Dinner hosted by Routt County Republicans.
Maybe the pub ambience loosened Coffman up.
Or maybe this is an elected official who is willing to turn the lens on himself and talk about tough topics.
In case you missed it, Coffman's office recently has come under fire for the actions of former elections technology manager Dan Kopelman, who sold election-related information such as voter lists to Republican groups for personal monetary gain.
By benefiting financially from his Political Live Wires consulting firm and associated Web site, Kopelman allegedly maintained a partisan side business while working in the Elections Office for the Colorado Secretary of State - activities that even the office's spokesman, Jonathan Tee, has called "improper."
Routt County Clerk and Recorder Kay Weinland, a Republican, said last week she is "appalled" by the situation.
Coffman has ordered an investigation of the matter by state auditor Sally Symanski and moved Kopelman out of the Elections Office, cutting his $85,000 annual salary by $9,240.
"The Secretary of State's Office really has to be held to a higher standard than the rest of state government," Coffman said Saturday, adding he was "stunned" upon realizing that Kopelman's Web site was up and running after Coffman's inauguration Jan. 9.
Coffman said that while he was told Kopelman "inadvertently left the site up," that story fell flat when Coffman realized Kopelman's biography on the site had been updated to include Kopelman's position in the Secretary of State's Office.
"I was just shocked," Coffman said. "As soon as we found out, we made him take the Web site down and we began the investigation."
Coffman acknowledged that no matter what the audit reveals - which might not be known until August - public perception of the Secretary of State's Office is crucial, especially in the wake of election difficulties last November and the placement of five counties, including Routt, on the state's Election Watch List.
"(Perception) is huge, and it definitely took a hit," Coffman said. "What I've been taught in terms of leadership is the chief executive is ultimately responsible for what's going on, whether they knew about it or not."
Coffman said he regrets failing to immediately conduct a thorough review of his staff upon taking office.
"That review should have happened on the first day, and it didn't," he said.
While Tee has said an internal investigation showed Kopelman did not sell voter records after Jan. 9, Coffman said Saturday that Kopelman's job is not yet secure.
"He could get fired," Coffman said. "That will depend on the audit."
Tomorrow, Coffman plans to unveil a new set of employee regulations for his office. He has spoken with secretaries of state from around the country about their regulations, and said Colorado's new policies "could be the toughest in the nation" and a "model for this country."
"Thursday is the day to watch for," Coffman said.
Despite the serious questions the issue raises about his office, Coffman's frank responses and quick actions go a long way toward convincing me that this is a man who is doing his best to uphold the integrity of his position - and who was honestly surprised by the actions of, as he said, "a subordinate that failed me."
"I got hit with a sledgehammer between the eyes on this one," Coffman said.
- To reach Mike Lawrence, call 871-4203
or e-mail mlawrence@steamboatpilot.com