Tom Ross: Ranch hands in short pants prove invaluable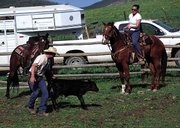 I never thought I'd live to see working cowboys in short pants. But I have to admit, those fellas with the hairy legs knew their business.
I was an uninvited guest Saturday at Larry and Mary Kay Mongers' High Tide Ranch for the spring ritual of branding calves. The ranch is west of Steamboat Springs along the lower Elk River.
Before we go any further, let me make it perfectly clear that no member for the Monger clan was seen wearing short jeans at the ranch's 100th branding. But a couple of the top hands at the branding were throwing calves to the dirt of the corral and pinning them down with legs that were unprotected by denim, let alone chaps. And not a single soul gave them any grief about their nontraditional cowboy garb.
Hey, good help is hard to find, and the times are changing in Yampa Valley's ranch country.
I haven't been to more than a handful of brandings in my life, and I'm basically no help at all. Sure, I'll get down and dirty in the corral. I'll even wave my arms to block the path of a wayward calf, but I don't need to get kicked if I can avoid it.
Of course, that kind of attitude won't get the calves branded and castrated.
Branding is fairly brutal - there's no way around it. It's also exciting - you have to experience it to understand. There is the acrid smell of singed hide, there is poop and there is blood and there is a lot of bawling from distraught cows and calves. Mary Kay Monger handed Barb Hurley a spray bottle of soothing aloe vera solution Saturday to spritz on the calves' freshly branded hides. That didn't happen in the Old West.
The Monger ranch is celebrating its centennial this year, and thus, this year's branding marked a milestone in this high valley where the West still is relatively young.
It's no secret that it's becoming harder for traditional ranching families to remain on the land where 35-acre parcels fetch millions of dollars.
One of the challenges is that ranch families have always relied upon one another. Today, neighbors are fewer and farther apart. So, it helps to have a rugby team on your side. And that's where the short pants come in.
Larry and Mary Kay's adult son, Mark, plays for the Steamboat Rugby Team (coincidentally, the team's annual tournament is called the Cowpie Classic, but that's another story).
Mark invites his teammates to the ranch to experience his family's way of life.
"We have an international crew today," Mary Kay said. "Two of those fellas are from Holland and those three are from New Zealand."
They were all big, strong rugby players who thought nothing of dragging a vigorous calf out of the pen by its heels and pinning it to the ground. One of the young men from New Zealand had obviously grown up on a ranch and knew his business.
It's fascinating how things work out. The changes the resort economy has brought to Routt County don't make it any easier to stay in business as a rancher. But a new generation of ranch hands in short pants is eager to help a centennial ranch begin its second 100 years.